RHS Flower Show events are back on the calendar as the sun comes out and colour bursts back into our gardens.
By Sam Clark Photography Anna Perotti
We enjoyed a great day out the last time The Duke and Duchess of Devonshire hosted the RHS Chatsworth Flower Show. Tens of thousands of flowers, plants and trees filled the majestic setting in front of the grand house with deer roaming in the hills above and the River Derwent flowing gently through the middle.
Like Chelsea and other RHS Flower Show's, Chatsworth is bursting with an array of awe-inspiring show gardens, stalls and exhibitions along with food, music and much, much more. But unlike Chelsea, the location in the stunning Chatsworth estate has the luxury of space. When the dizzying array of flora becomes too much, you can grab a glass of something cool and refreshing and find a quiet corner to relax and enjoy the landscape. The extra space also allows for a special Long Boarder category of sweeping sections of planting in the garden competition.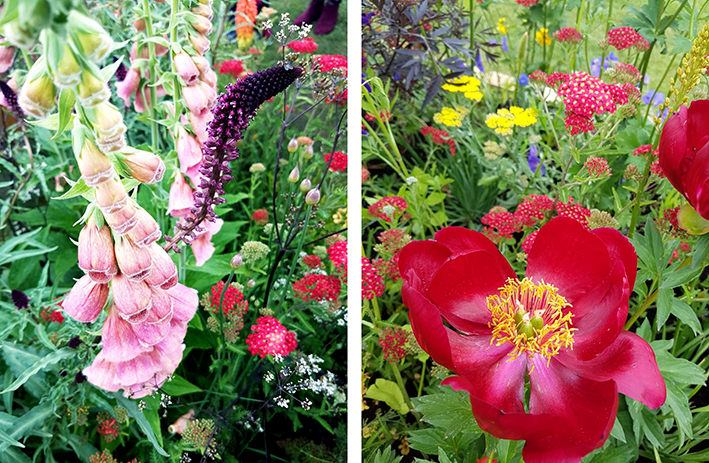 Special interactive experiences were created around the year's theme, '5 Scenes of Horticulture'. Visitors were invited to take a Virtual Reality flight through a flower meadow, flying on the back of an insect.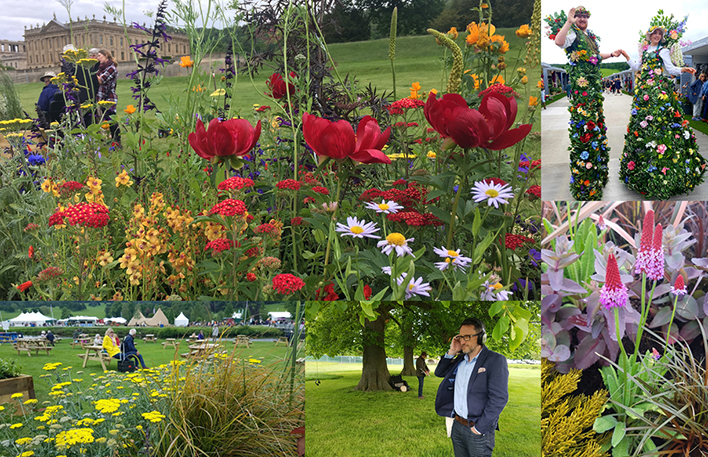 The Power Of Trees celebrated and explored the essential role trees play in the world and highlighted the plight they face. The world's only tree listening device gave a unique experience, tapping into hidden internal sounds. Headphones hanging from the branches of a tree played gentle murmurings and a quiet popping sound as water travels through its cells.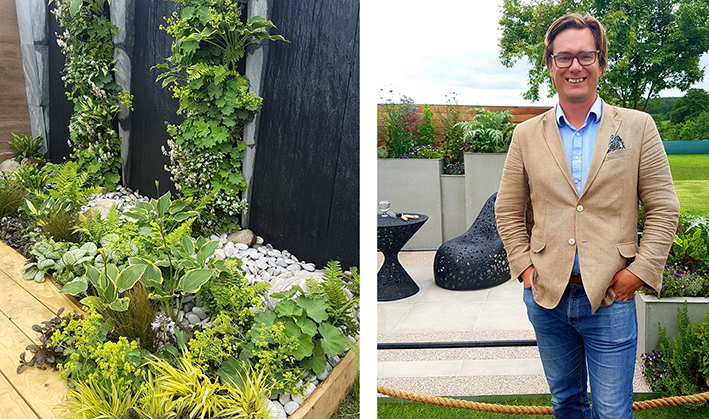 In the show garden competition area Brent Purtell demonstrated how plants can benefit our lives, even in small built-up space. A couple of years earlier Brent decided to change his life, after 15 years as an investment banker working on the trading floor he studied horticultural design and his show garden won a bronze medal in the Mindfulness Garden category. Brent based his design on the roof garden he used to have in Fulham, all the plants are edible and grown in architectural planters constructed in fiber cement, a cladding primarily seen on skyscrapers.
A personal favorite garden display was 'Elements of Sheffield' by Emily Barnes. While still studying Horticulture, Emily won the opportunity to create her garden in a BBC Radio competition. The garden explores the relationship Sheffield city has with Peak District on its doorstep. Steel is used for fencing and a pergola set in richly textured and colourful garden of flowers framed by a drystone wall with water dripping through wonderfully tactile bubbles of moss.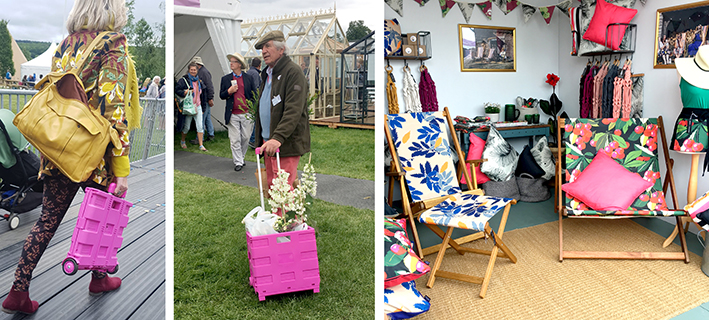 Around the show are many tempting stands with everything you need for the garden from protective gloves and wellies to luxury relaxing pods and artisan gin! Central to the shopping is the mighty Floral Marquee. Walking in feels like entering a Tardis, opening out to airport proportions and bursting with flowers and plants. Over 70 growers exhibit stunning show stands and visitors can buy an amazing array of plants ranging from just a few pounds. Those in the know have ingenious fold out trollies, which they fill with floral bargains (the wheelie baskets can also be rented if you are, inevitably, tempted with more than you can carry!)
Among the spectacular plant displays it's worth seeking out Pennard Plants who have an extraordinary collection of rare and heritage seeds. Including over 80 tomatoes and for anyone going to the trouble of growing one of these delicious varieties they shared a Top-Tomato-Tip: Tomatoes don't like fridges. If you have to refrigerate them, take them out 12 hours before eating to let the flavor return.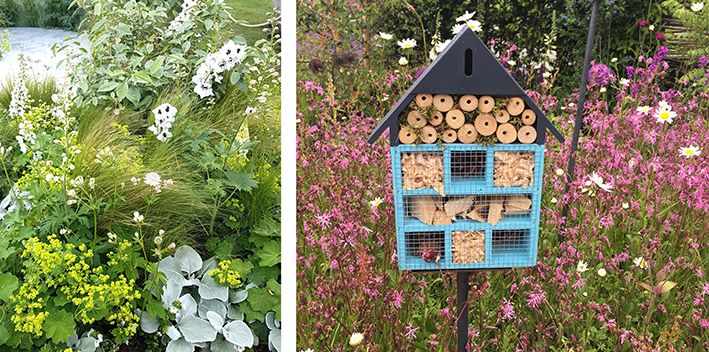 It's a fantastically inspiring day out whether you have a window box or a country estate. If you like getting your hands dirty or if your idea of enjoying a natural space involves sitting back with a glass of Pimm's, there is something for everyone.
RHS Flower Show events have been announced at Tatton Park and Hampton Court Palace. Find full details and tickets here rhs.org.uk
The flower show at Chatsworth isn't in the 2021 calendar at the moment but you can keep an eye on news of upcoming events on their website chatsworth.org      
And see how much we enjoyed sitting in wonderful chairs at Chatsworth here
---
Read about our visit to the inspiring RHS Tatton Park show here