By Sam Clark
Make Yourself Comfortable was an engaging exhibition of contempory seating at Chatsworth, the grand home to the Duke of Devonshire. To my surprise, I was delighted to find visitors we're encouraged to sit in most of the exhibits. Not so surprising you might think, given the title.
The exhibition held over the summer of 2015 presented a collection of contemporary seating gathered from some of the worlds leading artists and designers. A number of works specially commissioned for the occasion and there were pleasingly few red velvet ropes around these comfortable works of art.
The eclectic range of seating varied from functional classics to sculptural, often witty forms, all in celebration of the seat. The pieces ranged from Marc Newson's iconic, Lockheed Lounge. To a chair created by George Wood, a member of the Chatsworth house team. George was inspired by the Kröller Müller chairs created by artist Piet Hein Eek. He made his own chair from discarded materials salvaged from the estates Country Fair.
The Lockheed Lounge comes from Marc Newson's own collection. Its fame was sealed when it stared beneath Madonna in her video "Rain". One of this edition of ten was sold at auction in 2009 for over £2million. Easily making it the worlds most expensive piece of furniture by a living designer.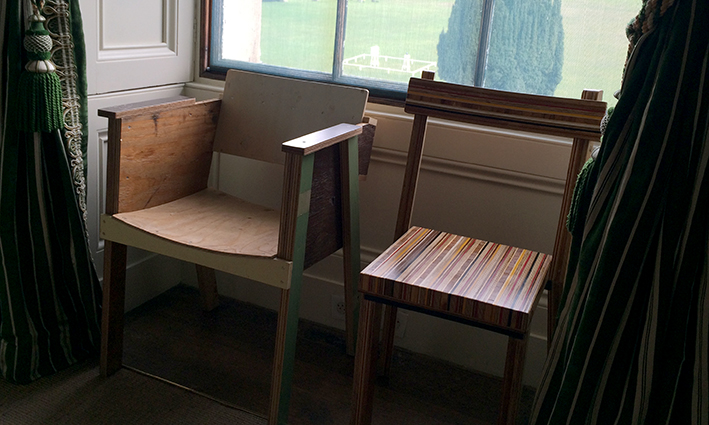 Visitors game enough to brave Thomas Heatherwick's Spun chairs were rewarded with a perfect 360 degree panorama of entrance hall's magnificent 300 year old painted ceiling depicting William III as Emperor Caesar.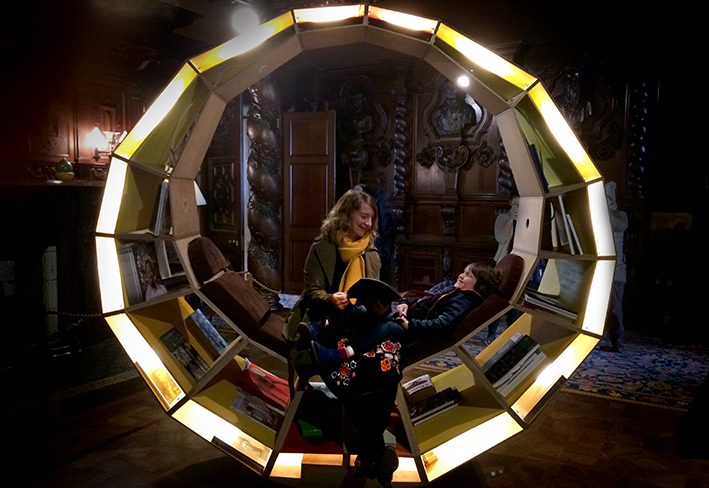 Meandering through the rooms of Chatsworth house there were more carefully curated pieces perspicaciously positioned as if they were, part of the furniture. Thomas Mills literally wraps a library around the sitter, providing a place to loose yourself in books. Water Block by Tokujin Yoshioka floats before a sculpture of the goddess Diana bathing. In the Sculpture Gallery, the Raw Edges design studio grew benches and stools out from the floor among the classical sculptures.
The Chatsworth website for Make Yourself Comfortable stated, "we want you to sit on modern day seats and feel at home." And I did. Thank you.
Visiting Chatsworth
The magnificent Chatsworth house sits in the rolling Derbyshire hills with deer roaming through the grand estate. Inside the stately house it is equally impressive with a fine collection of art and sculpture displayed throughout the grand rooms. It's well worth a visit, even without one of the special exhibitions. The house has been the Cavendish home since 1549 and is stuffed full of the family's treasures collected over the centuries, old masters, neoclassical sculptures, priceless artifacts and more.
Like any family home, there is stuff everywhere. There is warmth and humor in every corner. Try and spot the violin that is not really there and the column's that follow you like Mona Lisa's eyes. And this is a living collection which is being constantly added too with new contemporary artworks. Like the 20 meter long insulation where the Duke and Duchesses' DNA is mapped out in small ceramic steps, which seem to tap at your eyes. It's like walking through a sheet of classical music.
Chatsworth house has currently been closed temporarily and the events calendar postponed due to the Covid crisis. You can find the latest updates on their website www.chatsworth.org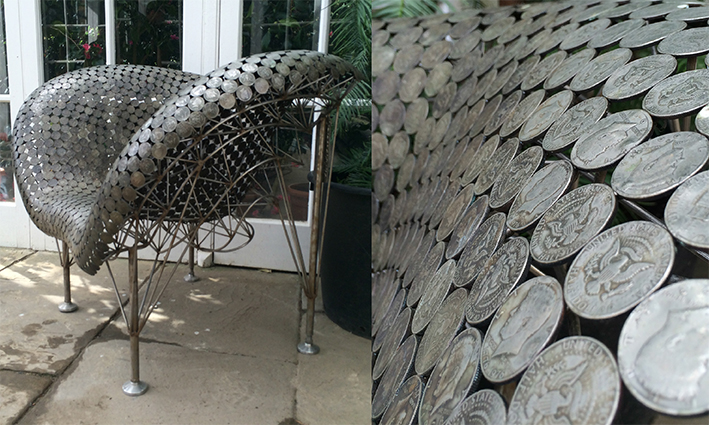 Feature Image – Chaise Lawn by Deger Cengiz on the lawns of Chatsworth House. Image courtesy of Make Yourself Comfortable Chatsworth.
Other images courtesy of Make Yourself Comfortable Chatsworth and by Sam Clark.