Wine adventures in the south of France
Article and images by Sam Clark
The South of France is synonymous with fine wine, and what more of an excuse do you need to take a few days off in the sun? Thirsty for adventure, I set off from St Pancras with a few friends to see what else the area has to offer. We sped into France on the Eurostar to Lyon and then jumped on a TGV for a swift, 30 minute ride to Valence where we picked up rental a car. Our plan was to spend the next few days traveling south through the regions of Le Gard and the Ardèche enjoying the rich landscape and tasting the local produce.
A night in a castle, Uzer
Our first stop is Chateau d'Uzer, a 12th century French castle hidden away in, Uzer, a tiny hillside village. Owners Eric and Véronique have lovingly restored the old building, transforming it into an exquisite hotel. Véronique's exceptional flair for design has created a stylish oasis of luxuriously romantic, vintage chic. Walking through the rooms is like stepping through the pages of a plush interiors magazine.
You can loose yourself wandering through gardens before a refreshing dip in the freshwater swimming pool to work up an appetite for a delicious meal made by Véronique with local ingredients, much of it from their organic vegetable and herb garden.

Ice age art gallery, Pont d'Arc Cavern
Escaping the entrancing sanctuary of Chateau d'Uzer we drive south through the stunning gorges of Ardèche is. Keep an eye out for small parking areas at the side of the road. They are often placed at spectacular spots down dizzying sides of the gorge looking down to the river that cut the valley snaking through far below. One of the most breathtaking is Haute Corniche on the D290 from Saint-Remèze.
The dramatic landscape is carved through limestone of an ancient seabed that is perforated like Swiss cheese with over a thousand caves. In one of these caves, in December 1994 three local speleologists (scientific cave explorers) received the Christmas present of their lives, discovering incredible cave art created around 35,000 years ago. It is estimated that there was a landslide 20,000 years ago sealing up the entrance and preserving the artworks until the cavers squeezed through a crack and their torches pierced the darkness. The cave is now a UNESCO World Heritage site and is deemed so precious it's closed to the public, and pretty much everyone else. Only a select few scientists are allowed to get within eyeballing distance for just a few weeks each year. Thankfully there is an exact replica housed in an architecturally striking concrete structure with a shaded café and gift shop at Pont d'Arc Cavern. It sounds a little Jurassic World meets art gallery but stepping inside was really quite awe-inspiring. The movement and energy captured in the markings and drawings provoke an extraordinary feeling of connection to these ancient artists. No one knows why they felt compelled to brave the very real danger of cave bears, who's claw marks can still be seen scored in the rock, and venture deep into the cave far any natural light to find the best sections of rock to be their canvas. Perhaps it's something to dwell on later with a glass of the wine?

Nuts & Lunch
The most important French word to learn around here (well, maybe after 'du vin'!) is châtaignes, which means chestnuts. Also, slightly confusingly sometimes know as marron, for reasons I never managed to decipher. They are creamy, velvety and delicious and the locals put them in everything. Cakes, sausages, pâté… A surprise favorite is found in squeezy tubes like toothpaste for squirrels, which is enjoyed by everyone from children to runners as a natural energy gel.
As the mid day sun beat down on the vin yards lining the road we pulled into Auberge la Farigoule in Bidon for lunch sat in dappled shade under the canopy of trees in front of the restaurant. A local specialty is Brouffado, a rich beef stew slow-cooked with capers and anchovies. Beer flavored with honey and, of course, chestnuts makes a sweet accompaniment. A tip when choosing a restaurant is to look out for 'Bistrot de Pays', this is a restaurant collective that are dedicated to using local produce.

Cave Wine, Grotte de Saint-Marcel d'Ardeche, Saint Montan
Those of you familiar with the blind action hero, Dear Devil will be well aware of the old theory that if you take away one of your senses the others become heightened. I lost most of my common sense on a bmx in the 80's so was giddy with excitement as I donned a boiler suit and hardhat with a head torch ready for some sensory deprived wine tasting. For the last few years' local winemakers have used the subterranean microclimate at Grotte de Saint-Marcel d'Ardeche, Saint Montan for the vilifying of their wine. Our small party gingerly followed intrepid winemaker Raphael Pommier of Notre Dame de Cousignac vineyard into the cave. Raphael and cave expert, Nicolas Bransolle led us down through the giant network of underground caverns deep into the cave. Some 100 meters below the vin yards above, Raphael produced wine glasses from his bag and we all turn off our head-torches to sample his wines. It takes a few moments, and a few sips to detach yourself from the journey here and the faint bouquet of waterproof boiler suit but then the solid blackness surrounding us is filled with the aromas of wine and the taste permeates through your head. It's quite an intense experience.

The passage through the cave system is not quite Indiana Jones level but Nicolas had saved a little surprise for his now, slightly wine-softened party. The route back to the surface required flying through the magnificent Cathedral cavern above lethal looking stalactites on a zip-wire.
Uzès
Emerging from the depths of Grotte de Saint-Marcel d'Ardeche, blinking back into the sunlight, we made for our next stop, Uzès, a beautiful little town roughly 12 miles north of Nîmes. It's small enough to feel intimate though just large enough to happily loose yourself wandering through the charming old streets which surround the main square, Place aux Herbes. On Saturdays the Place aux Herbes holds a market and is filled with delicious local produce.

L'Hotel Entraigues was our home for the night. A chic hotel that pairs a careful restoration with midcentury modern style. Its makes a great base, located just a short stroll from to the center. Tucked into the old building is a swimming pool with views of the cathedral. A top-booking-tip is that Room 104 has direct access to the pool for the luxury of a sneaky dip. Hidden up a twisting staircase is a terrace bar with views over the rooftops to the surrounding vin yards.
Roman Waterways, Pont du Gard
Uzès was an important location for the Romans. The source of the river Alzon rises in Uzès and the Romans took water from here through a series of around 31 miles of channels and aqueducts to supply Nîmes. It was a great engineering feat that was fueled with the gaining of money and power. The Romans capped the existing wells in Nimes so they could control, restrict and charge for the water supply to the growing city. And what better way to display your power and wealth than a lavish villa on a hill above Nimes with an extravagant fountains raining down.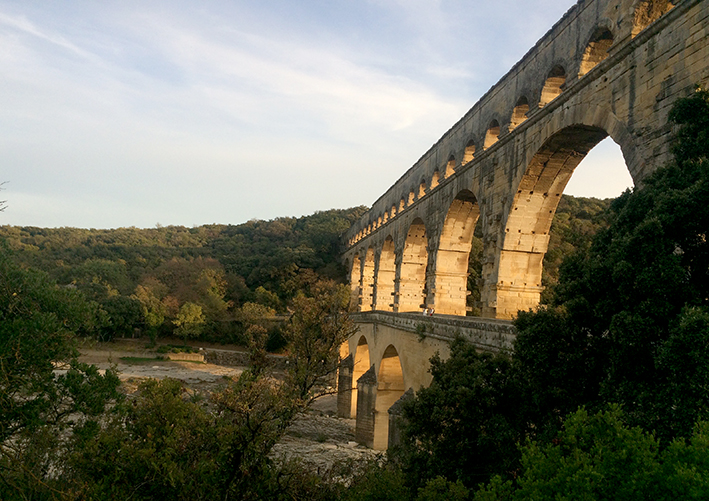 The most impressive surviving structure from this engineering masterpiece of irrigation is the Pont du Gard, an aqueduct constructed around two thousand years ago to carry water 49 meters above the Gardon River, near the town of Vers-Pont-du-Gard. The Pont du Gard is now a UNESCO world heritage with a museum largely hidden underground to preserve the site. Early evening is a particularly beautiful time to visit as the crowds of tourists start to disperse, you can find a spot to sit and enjoy a picnic of local delicacies from the market while watching the arches of the aqueduct glow orange in the light from the setting sun.
AOC Duche d'Uzès, fine wines with a distinctive character
After the excitement of our underground wine exploits we decided to enjoy more of the landscape and chose a trip with Emmanuel Pédeneau and his team of horses, touring serenely through the fields of AOC Duche d'Uzès grape vines. Wine production in the area dates back to 6th century BC when the Phoenicians and Greeks first planted vines in the region. In the summer of 2013, the vineyards in and around Uzès were awarded the AOC Duché d'Uzès in recognition of their high quality and strong southern character. Vin yards produce their own unique blends using mostly Grenache, Syrah, Claireette and Syrah grape varieties. These are hardy grapes that thrive in the hot, dry conditions and become wines that are aromatic, spicy and fruity, often with notes of liquorice, black olives and pepper.

Our carriage drew up for lunch at Domaine Les Lys vin yard where we received a warm welcome from the owners Marie-Hélène Veyrunes and Thomas Faure. Surrounded by vin yards we happily sipped a deliciously light and fresh Chardonnay followed by explosive berry flavors of their Syrah blend and a very special, intensely dark and seductive 100% Grenache. Marie-Hélène explained the trend over the last few years of hot unusually dry conditions have given a low yield of grapes but that were full of flavor. So although there was less wine produced it resulted in a rich flavor. A trend that seems to be continuing with more dry, hot weather.
Nîmes
Leaving the horses, our designated driver for the afternoon, after drawing the short straw at our lunch in the vin yard, drove us down the last leg of our trip into Nîmes. Nîmes is a vibrant and lively French city with a captivating energy. It was an important outpost for the Roman Empire and several well-preserved monuments are on the tourist must-see list. The Roman Arena of Nîmes is still used for concerts and bull fighting, held in May and September with the surrounding streets filled with food, drinking and dancing.
We stayed in the Aparthotel, a rather grand hotel conveniently located near the train station for our departure in the morning. Aparthotel offers rooms more like mini-apartments, smartly furnished with a lounge and kitchen area. The location is equally convenient for strolling into the center of Nîmes making it a perfect base in the city. Slightly reluctant to actually test out the neat catering facilities, we went to find some find some of the fine dining available in Nîmes.
Hidden away down a street around the back of the arena, an anonymous looking door in a window less wall is the understated entrance to one of the best restaurants in Nîmes, Vincent Croizard. Like an exclusive club, you will need to ring the doorbell to gain entry into the stylishly elegant interior. The menu has an enticing array of skillfully created delights and accompanied by some of the best local wines.
We squeezed our trip into a long weekend which was packed full of great experiences, visual treats and wonderful tastes but you could, and perhaps should, take a more leisurely approach and enjoy a week or longer soaking it all up. September/October is a prime time to visit as the summer tourist season is calming down and the weather should still be warm enough to enjoy a drink in the sun.
This trip was taken before the Covid pandemic. Please check travel restrictions before you book anything.
Chateau d'Uzer
www.chateau-uzer.com
Pont d'Arc Cavern
www.orgnac.com
Grotte de Saint-Marcel d'Ardeche
www.grotte-ardeche.com
Notre Dame de Cousignac
www.ndcousignacvillegiature.fr
Escale Aventure, Caving, Nicolas Bransolle
www.escale-ardeche.com
L'Hotel Entraigues, Uzès
www.hotel-entraigues.com
Horse and Cart tours, Uzès
www.ecuriefontclarette.com
Pont du Gard
www.pontdugard.fr