RHS Flower Show Tatton Park, a beautiful day in the sunshine!
By Sam Clark Photographs by Anna Perotti
After a hard winter for us all the sun blazed down over the glorious colours that filled the RHS Flower Shows. Visitors shaded themselves beneath parasols at Tatton Park and later in the year, were treated to a beautiful warm September sunshine in Chelsea. The show was rescheduled because of the pandemic and held in September for the first time. Exhibitors did an extraordinary job filling Chealsea with vibrant displays so late in the season.

Through the lockdown over 3 million of us started growing plants and at the RHS Flower Show's there was plenty to inspire and enthrall new gardeners, and those with more experienced green fingers.
As the early summer sun blazed down, we packed our sun cream and headed off to the RHS Tatton Park Flower Show, a wonderful celebration of flowers and plants set in the Cheshire countryside. The show is spread out around a central island of magnificent trees. Visitors can leisurely wander around viewing the exhibits, stunning show gardens, tempting shopping areas. Stopping for refreshments and pausing for a rejuvenating rest under the shade of the trees. Our afternoon of meandering laps of the showground found new surprises and delights each time round.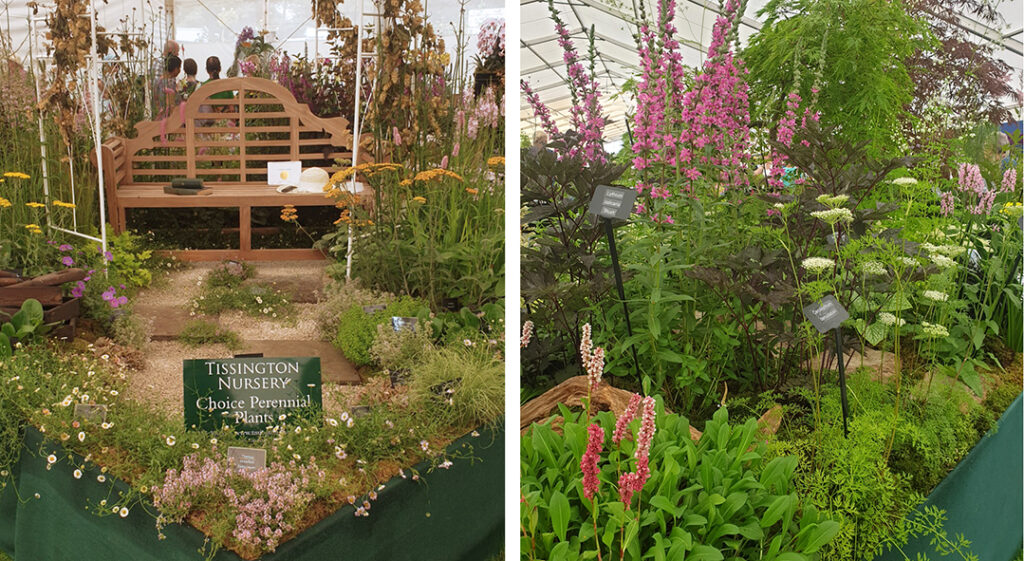 Current trends in planting and garden design displayed at both Tatton and Chealsea, clearly show a caring mindfulness for people and the environment.
Many of the gardens were designed with great care, thoughtfully utilizing the physical benefits and mental wellbeing that plants can provide. A highlight of Tatton was the beautiful Macmillan Legacy Garden created by Rob Hardy. Two paths made with different textures and 'pinch points' lead through the garden to a reflective pool representing the struggles people with cancer and those that love and care for them go through and to raise awareness of the work Macmillan does in cancer support.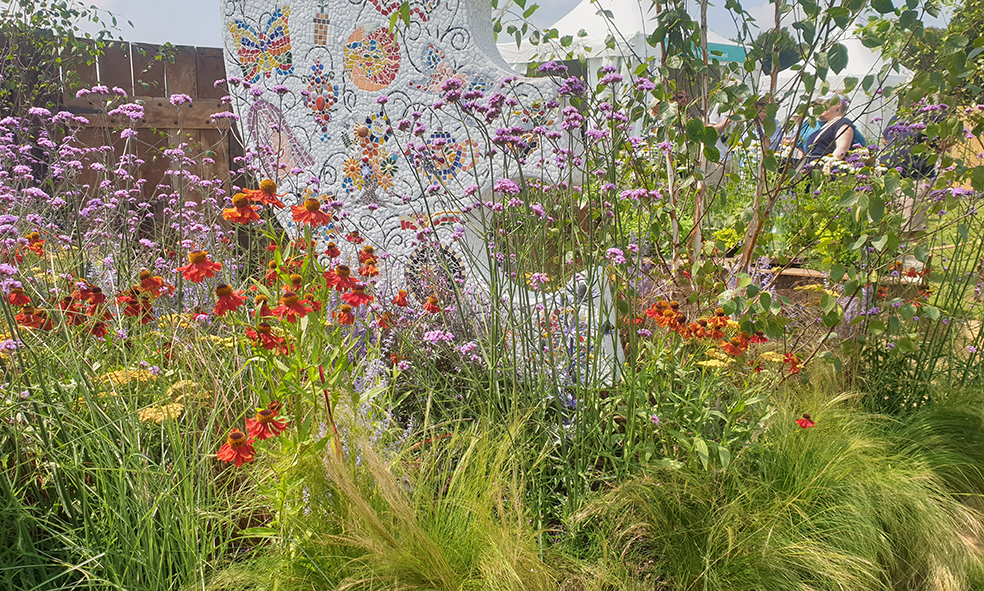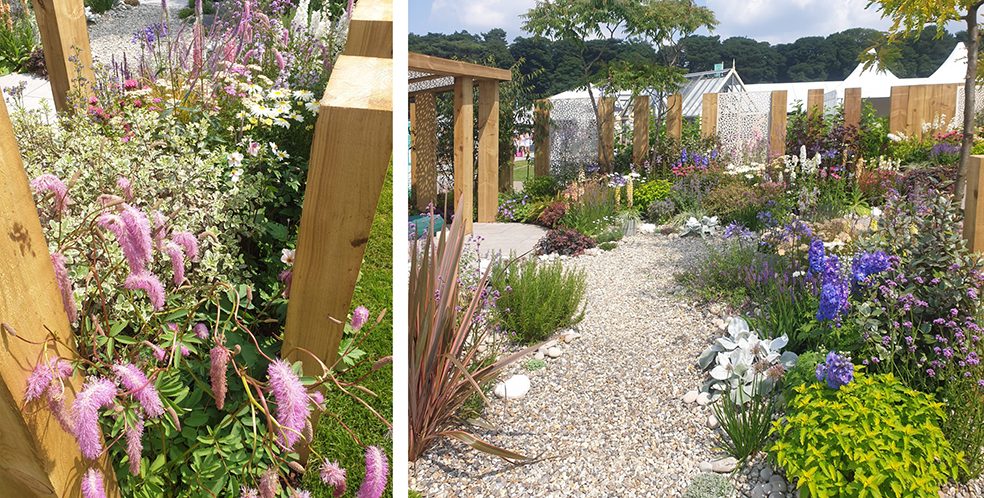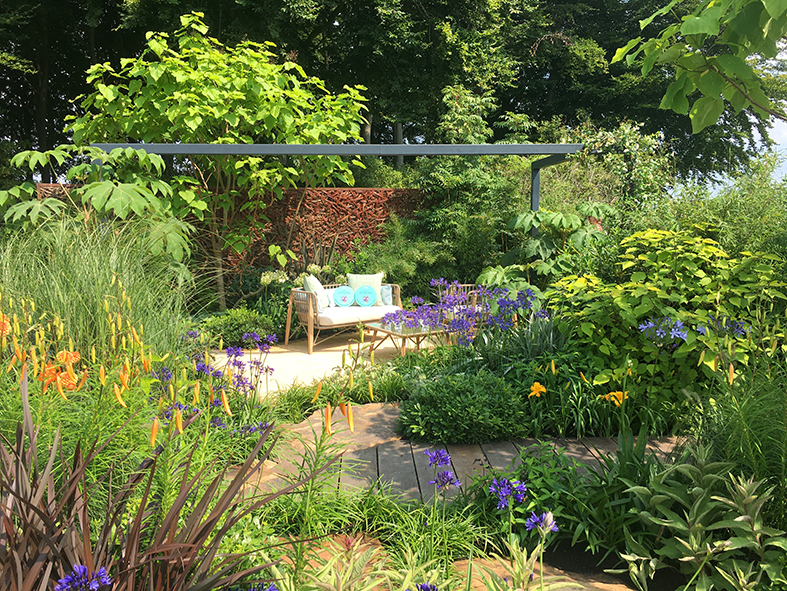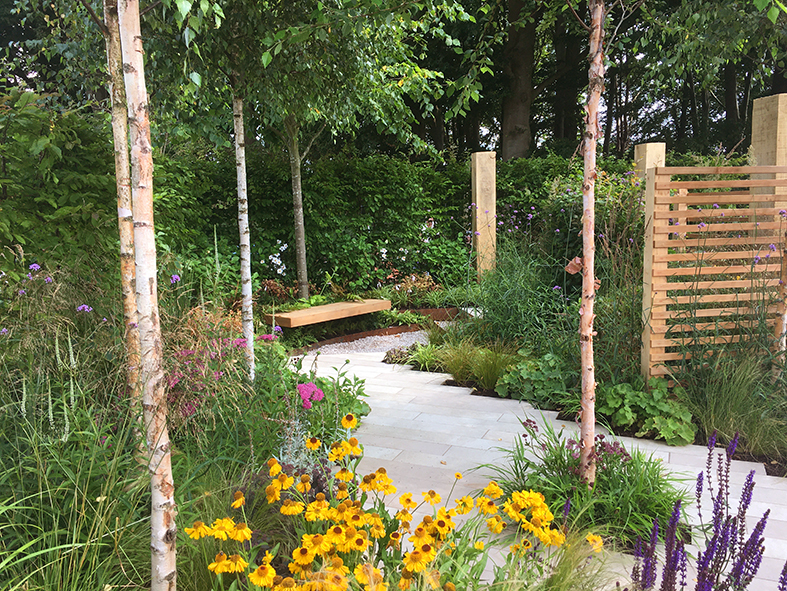 Find out about flower shows, special events, gardens and much much more on the RHS website
We can highly recomend a visit to the wonderful, award winning Tissington nursery in Derbyshire

Discover more about the designers featured in the photographs:
Peter Lloyd Gardens By Peter Lloyd
Pip Probert Outer Spaces
Emilie Bausager Emilie Bausager Landscapes
James Smith Topoforma Landscapes
Freddie Strickland Freddie Strickland
Tickets are now available for 2022
---
You may also like to read about our visit to the beautiful RHS Chatsworth flower show