Travels in Champagne, France
Article and photographs by Sam Clark
We may have to wait a little longer, but when we are finally able to get out and travel again where could be better to go and raise a glass in celebration than the home of the drink of celebrations, Champaign!
The Champaign region is around 100 miles North East of Paris. Large natural and agricultural landscapes are peppered with beautiful chateaux and villages, all with a boulangerie and charcuterie serving local produce; bread, beef, cheese, and of course, Champaign!
The region is roughly split into two halves with the more fertile north the location of many of the vineyards. For the more inquisitive traveler there are some special treats to be found in the south, and, don't worry, there are some vineyards too.
Just before the restrictions suspended all our travels we took a train out of Paris to Chaumont then headed off in a rented a car to explore the area.
Champagne!
Of course, we found Champaign! And it was delicious. The Calon-Egger family has been running Monial Champagne in Colombé-le-Sec since 1922. The historic estate was established as part of Abby of Clairvaux in 1115 and the spectacular vaulted cellar is still home to around 50,000 bottles. The remarkable construction of Cistercian elevated ribbed vaults is a beautiful example of 16th century architecture and was classified as a historical monument in 1919. Above are the living quarters built around a small but enchanting chapel dominated by a large stained glass window.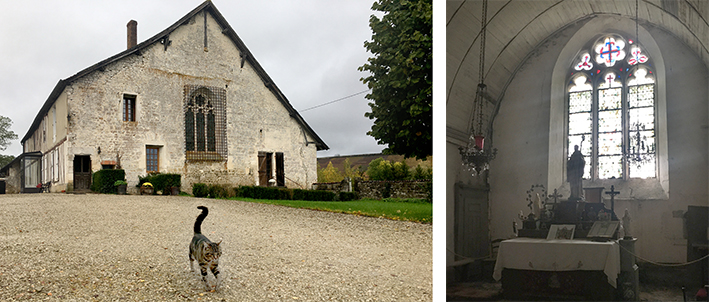 It's almost worth visiting for the incredible historic architecture alone. Almost. We went for the champagne! The vineyard has good sun and soil giving a perfect balance of sugar and acidity in the grapes that the Calon-Egger family lovingly transforming into a variety of splendid sparkling wines. The sun and soil around Colombé-le-Sec provide excellent conditions for Pinot Noir and the gold medal-winning, Libera Me Brut is beautifully fresh and bursting with fine tiny bubbles. A mix of Chardonnay and Pinot Noir is aged in oak barrels to create their Sylves Brut, a wonderfully sophisticated champagne rich in aromas with subtle woody notes.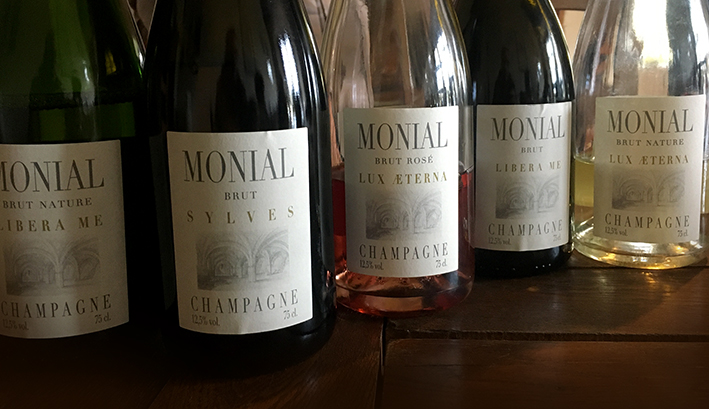 Wildlife photography, a lake of birds and a new National Park
There is a great connection to the land and nature throughout the region. Montier hosts its famous Wildlife Photography Festival every November and the small town is filled with images capturing the stunning beauty of the natural world. Buildings around the town, including the magnificent 10th century church, are transformed into galleries centered around an exhibition of the prestigious Wildlife Photographer of the Year competition.
Inspired by this wild visual treat you can head out to Lac du Der, a huge lake that is home to thousands of birds. The vast expanse of water is one of the largest artificial lakes in Europe, created to provide flood protection to Paris. It's a haven for wildlife and a top watersports destination in the summer. Local expert ornithologist, Gérard Rolin can be booked to guide you to the best bird-watching spots.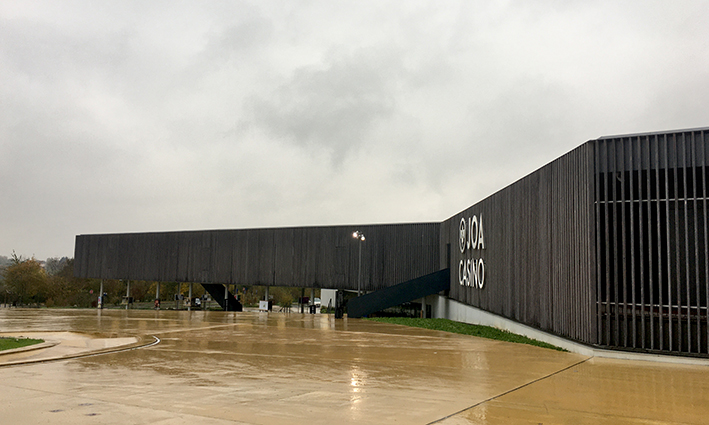 To the southeast of Lac du Der is France's newest national park. The agreement to create Orient Forest Regional Natural Park, Parc naturel régional de la Forêt d'Orient, was signed at the end of 2019. It is the only national park in France to allow people to live in it and aims to balance the need for living space, tourism and farming while protecting the environment and beautiful ancient woodlands.
Truffle Hunting
Truffles are a delicacy of the region and Isabelle and Philippe Devilliers, and Orca the dog, are on a mission to share their passion for them. They give a wonderfully friendly welcome to guests who can join them on a hunt in their truffle forest then enjoy wonderful food laced with truffles prepared by Isabelle. We were fortunate to arrive in time for tea and after following Orca's nose around the trees we were treated to a divine truffle cheesecake, tea and, it would be rude not to, a glass of champagne!
When we visited they were preparing new accommodation for overnight stays.
LES CLAIRS CHENES, Isabelle & Philippe Devilliers, 52000 Semoutiers
Tel. +33 (0)6 46 62 24 20
Charles de Gaulle's home in the country, La Boisserie
Charles de Gaulle clearly loved this part of France. Ignoring official protocol, he refused to stay in Paris at the Palais de l'Élysée and instead drove to Colombey-les-deux-Eglises to spend his weekends in the family home, La Boisserie which he bought in the 30s as a quiet refuge for his family. The house, filled with memories and memorabilia is now owned by his son, Philippe who has opened it up to the public.
Mémorial Charles de Gaulle
De Gaulle passed away in the library at La Boisserie in 1970 and he is buried in the small cemetery in Colombey. His life is celebrated in a memorial a few kilometres away where an enormous pink granite Cross of Lorraine reaches up to the sky and a visitor center and museum with interactive displays with recordings of De Gaule's speeches document his career and world events that unfolded through his life.
La Montagne, Colombey-les-deux-Eglises
On a trip filled with gastronomic treats, dinner at La Montagne was a highlight. Gifted Chef Baptiste Natali, the youngest chef in France awarded a Michelin Star (in 2002, aged 27) uses wild herbs to flavor a stunning seasonal menu in this sophisticated restaurant and hotel. Just a short walk from the final resting place of Charles de Gaulle in this peaceful village, heads of state often entertain here. Apparently, former French President, Jacques Chirac is already booked in for Christmas.
Prices reflect the high standards, but the menu de jour offers a delicious fixed menu for around €30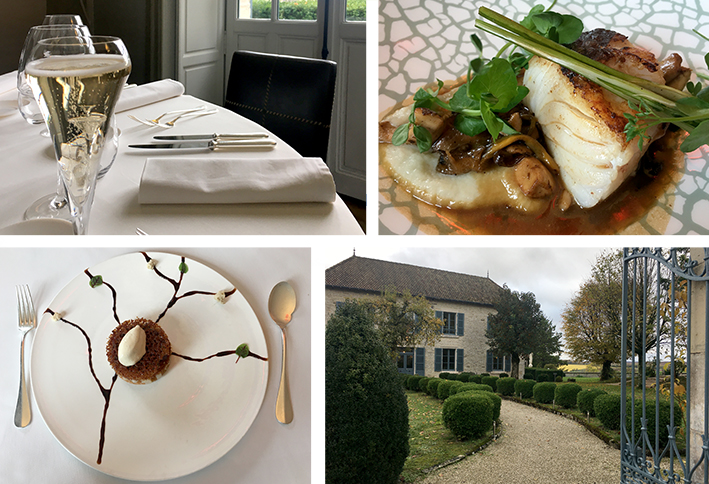 Accommodation
Roughly halfway between Saint-Dizier and Chaumont is the hotel Source Bleue, a beautifully converted 17th century watermill near a crystal clear natural spring that it takes its name from. The main building has art deco-styled rooms, each with a balcony or terrace but for an extra cozy experience, you can stay in a luxuriously converted vintage caravan, complete with a jacuzzi bath. After relaxing in the bubbles find your way through the oak trees back to the main building for dinner. The food is amazing! A personal favorite was the mushroom soup encased beneath a heavenly buttery pastry roof.
Anne and Frédéric Lagrange, the owners of Le Soleil d'Or, have lovingly transformed this old building into an elegant hotel in the heart of Joinville. The relaxed, warm welcoming atmosphere provides a perfect base. And as we were happily becoming used to on this trip, the restaurant is excellent!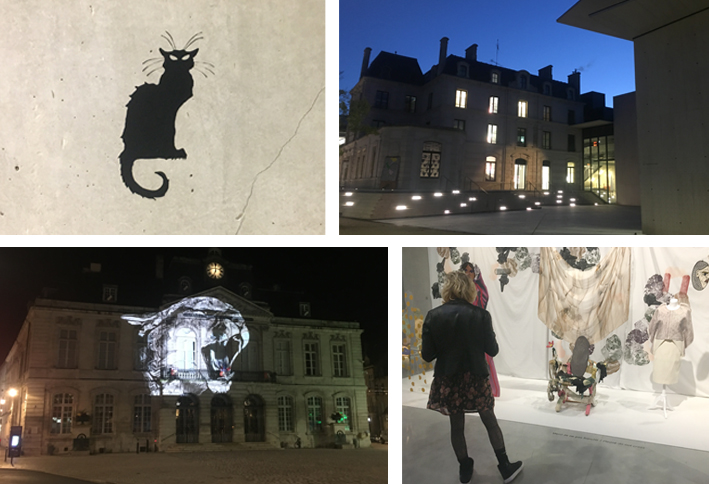 Chaumont Chaumont is a smart, lively town that we would like to have spent more time exploring. But we had seats on the early train back to Paris, so for our last night, we chose the Ibis Styles Hotel. It may not have compared to the charm and beauty of the other place we stayed but it was clean and comfortable and in an incredibly convenient location. Situated in the center of town and only a few minutes walk to the train station. Owners Mr & Mrs. Besa gave us a very warm welcome, but the real surprise was the great restaurant! Like in some other chain hotels in France, the restaurant is independently run and serves wonderful local food. The Sherwood restaurant is a member of Vraie Cuisine Maison (Real Home Cooking) and the menu includes a map showing where the produce has come from. Had we seen this at the start of our little explore of Champagne we would have added a few more delicious treats to our bags to take home.
We will be going back as soon as we can!
More information can be found on the Champagne & Ardenne website
_____________________________________________________________________________
Read about our adventures to discover wine beneath the ground in the south of France here