Anastasia Budiashkiva stars as gymnast Olga, bridging the summersaults and drama between actress and athlete. Hoping to score a prefect 10 at the Cannes Critics' Week Competition 2021, in the new film OLGA directed by Elie Grappe.
Interview with Anastasia Budiashkiva by Andrew Threlfall
_____________________
As the Olympics begin later this month we look at the highly competitive, sometimes toxic world of women's interns gymnastics in a film taking Cannes by storm at the much-reduced Film Festival on the Côte d'Azur.
It's 2013. And Olga, a 15-year-old gymnast is torn between representing and pursuing her dream in Switzerland – where she is training for the European Championship in preparation for the Olympics – and Ukraine, where her mother is a journalist, reporting on the dramatic upheavals known as Euromaidan.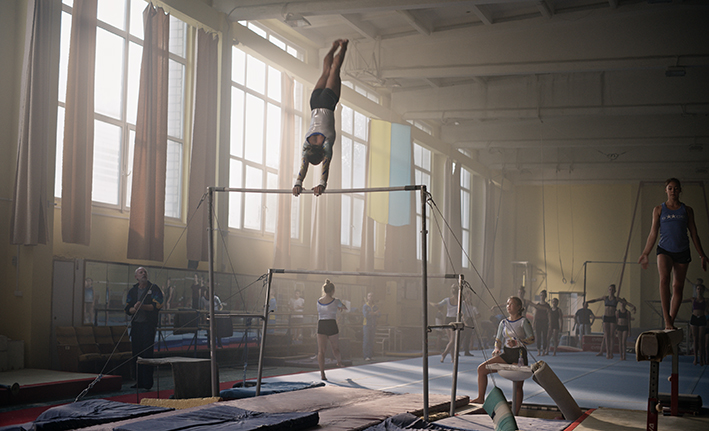 Anastasia Budiashkiva plays Olga and told us how the role mirrored her own sporting dreams.
AT: As a gymnast in your own life were you aware of the significance of playing an Olga? And also how the life and times of another Olga (Korbut) became the biggest story in gymnastics history.
AB: I was quite aware of the significance of this character. It was not very easy to play this part though because I'm not the same as 'Olga' in real life. I don't understand if people ask if the name of my character is a reference to Olga Korbut, formerly the world's most famous gymnast.
AT: What are your own experiences of the hard training regime expected of all elite gymnasts? From what age have you been doing this and what would a typical day of training and food diet require of you?
AB: I can tell that your result in sport is highly dependent upon the ability to obey your coach totally. It's a very hard road. Especially for me, as I always was a bit of a rebel. I started my sporting career when I was four years old. In 2015 I became a part of the National team and it was not easy physically as well as morally. Luckily I did not keep to any special diet, as I am quite skinny from the very childhood.
AT: Did you have any aspirations to ever become an actress and now that you have tasted it are you auditioning for future roles?
AB: Yes, as in every girl I think, I had a big dream to become an actress. It had been an aspiration of mine for a long time. My parents told me recently that I always had been a natural born actress. I'm not sure if that was a compliment. I haven't participated in any new auditioning so far but speaking of my plans for the future I can tell that I have a strong desire to act again in films.
AT: In England this month we have seen the incredible passion of the Ukraine national football team and the fans. Do you think the ongoing conflict back home drives the sportsmen and women of the Ukraine to even greater heights because of the pride in representing your nation?
AB: With the passion and motivation, I think, Ukraine has always been famous for its achievements in sports. However, nowadays we possibly feel even stronger unity and pride while representing our country that endures hardships of countering the ongoing Russian aggression.
AT: Here in Cannes it must be really exciting to walk the red carpet?
AB: Being in Cannes I am very happy about that. I had been yearning to walk the red carpet, always watched actors walking it and had been dreaming to be one of them. Dreams show a tendency to come true. I am extremely glad to be here together with all those people who have worked on the film. I am so grateful for this opportunity and always so happy to see and hear from all those people who worked on the film together with me.
AT: Will you be eagerly looking forward to the Olympics and did you notice that the entire American gymnast team are women of colour this year? Black Girl Magic, making an even more dramatic point. Can you comment on this relevance in 2021 and the fact that your character Olga obviously draws on their background of protests in Kiev?
AB: Of course I am looking forward to the Olympics. I follow the American team and know the gymnasts though never have paid some special attention to the racial identity and don't know much about Black Girl Magic Movement (Ed note it's a social media hashtag). I can state for sure that these girls are very decent gymnasts.
AT: Have you met Simone Biles in real-life? And how much do you admire her?
AB: Unfortunately, I haven't, but I admire this girl. She does a great job. I always ask myself how hard it must be to perform all those complicated exercises. I wish I could talk to her and to have a chance to practice together.
AT: Why do you think gymnastics transcends all races and genetic make up? Girls of all shapes and sizes can succeed and enjoy this sport. Was it the same growing up?
AB: I am convinced that the possibilities and power offered by any sports in terms of personal growth are infinite. Any sports if you embrace them as a part of your life allow too transcend all kinds of boundaries and restrictions that hinder people's physical and spiritual self-actualization.
AT: How far can you go in sport? And acting? What are your future plans? AB: I wouldn't make comments on my future plans at sports. As for the acting, I am eager to move forward and to try something new. My plan is to study the profession and to start to act in films more and more.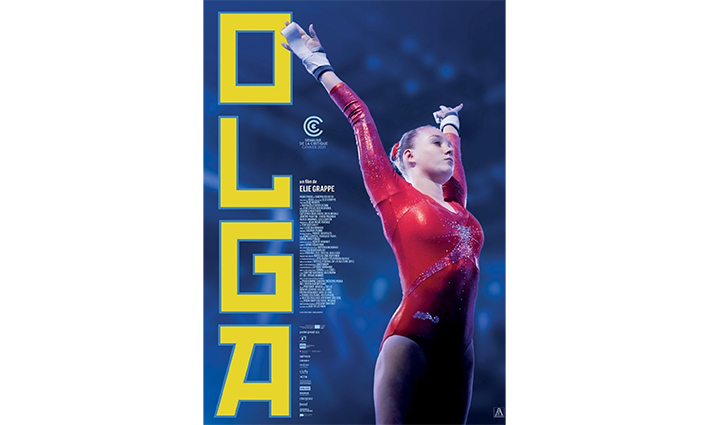 _____________________
Tahar Rahim receives a Golden Globe nomination for The Mauritanian. Read our meeting the uber-cool star of the chilling Serpent here