Nitin Sawhney new album Immigrants is a stunningly beautiful masterpiece from the multi-talented composer, DJ, producer, musician.
He talks to Andrew Threlfall:
"I defy anyone not to shed a tear watching the real Mohamedou Ould Slahi sing along to Bob Dylan at the end credits of The Mauritanian. A man tortured and detained without charge in Guantanamo for 14 years and 2 months. Of 779 prisoners there have been just five held convictions."
Nitin Sawhney's new album Immigrants is the official sequel to 1999's Beyond Skin, and this interview is in itself a welcome sequel to Tahir Rahim's chat with us (read it here) following his award strewn nominations for playing Slahi.
The music world can be a small one and it turns out that we have two mutual friends who also make their mark musically in Notting Hill. Jorja Smith – more later – and Estelle Rubio – DJ, producer, remixer, songwriter and, like Jorja, a former cover star of The Face magazine.
"My mum is down in Kent," explains CBE and holder of six university doctorates Nitin. "It's been tough and I haven't seen her in a long time but I stay in touch with her all the time on FaceTime. I try not to give out too many messages with my music but I found this album was about catharsis and dealing with an empathy that people are feeling with the their own lives in lockdown as well as ideas on the album. I wouldn't describe it as an angry album but I wanted to get it out there because it represents what I had been bottling up for some time."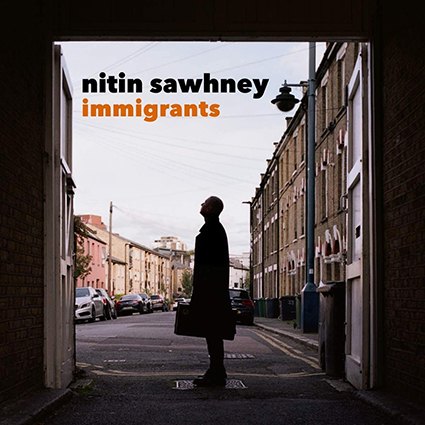 Ah yes, Twitter. Nitin and I have been in conversation for over six years on the platform after I bumped into Joss Stone, another former collaborator, who was working in the same BBC studio as I that day in 2015.
"I do sometimes tweet some angry stuff but not rants. I absolutely have moments of anger. And that's the whole thing about this album although it's a very collective voice and I'm blessed that there are many voices on the album. It was absolutely about how the idea of immigration and immigrants have been demonised or made to feel parasitic. I wanted to make an album that was a positive expression from immigrants juxtaposed with the comments from those who had experienced the UK (waves of immigration) like my Mum who had come over with my late father from Delhi, India. They are Punjabi and the nearby Kashmir crisis and the history behind it are pretty interesting and quite insane. The situation back in India right now is pretty disgusting but of course the rise of the right everywhere has been problematic."
"I said to someone the other day that there is not a lot of nuance in being angry. Which I feel a lot of the time. More and more I find I am probably cherry picking the causes that I can give my full attention to."
A metaphor also perhaps for the way Nittan has to prioritise his work schedule. Orchestrating, quite literally Jorja Smith's success was a no brainer however:
"Jorja Smith is very interesting in that she's quite shy. I worked on the orchestration for her fabulous song The One on Lost and Found, her incredible breakthrough album in 2018. She was very sweet when she came round to the studio."
How far can Jorja go?'
"All the way. Yeah, yeah she's a really cool artist. Maybe another Amy as you suggest. The first time I heard her voice was on a track with Predator and I thought she was absolutely mind-blowing. She's really continuing to grow. I'm been chatting to FKA Twigs about working together, and again she's very much in that Jorja talent area."
It turns out that the 57-year-old master of everything (producer, songwriter, DJ, multi-instrumentalist, orchestral composer and cultural pioneer) is in high demand from the younger UK talents:
"I met Ed Sheeran really early on when he was just 16. We would sit in this cafe and he'd be really chatty about music. A couple of years ago I was at the Ivor Novello awards with Imogen Heap and he came over and he gave me a massive hug. It was really cool because I did wonder if he'd remember me but it was really nice. It had always been lovely hanging out with Ed Sheeran at the cafe but I didn't work with him in the end. I did however work with Ellie Goulding who was also around at that time. I first met him when I was patron of access to music and he was just sixteen and we talked about working together one day. Sadly not yet."
Do you think festivals season might get pushed back to October even?
"I think that might actually happen. I am supposed to be playing the Cheltenham Jazz Festival and a couple of other outdoor events that I can't mention at the moment. I think everything is going to be slightly strange the minute we are back in fields dancing to music. I actually don't think there will be a normal ever again. Covid was a bit of a struggle for me as I have an asthmatic condition and I had a pretty bad Covid-19 situation back in October."
I ask finally about how Nitin spends his day ("I mean it sounds to me like you haven't seen daylight anyway for about 18 years!")
"Well I was trying to do a lot of running but I have been useless recently but I am trying to get back into it and especially more yoga but I've always been reasonably fit and when I run I start at 5K and then build up. I've got quite a lot of gym equipment at home but for quite a long time I used to do kickboxing and I have a Boxing Bob which is like a dummy who stands in the corner of my room. If I'm just about to hit send on an angry tweet I kick the s*** out of it.
"One of the most appalling and vile comments in recent times I found was from Boris Johnson when he said if it wasn't for greed we wouldn't be getting the vaccinations and then he started to try and backpedal on the comment. I found it quite funny because Gordon Gekko in Wall Street was a bit of a parody character yet here we are again with the British prime minister saying these things. And still world economics are dictated by the greedy who satisfy their wants rather than using limited resources where there is a desperate need."
Nitin has to leave as he's producing a track with Dave Gilmour from Pink Floyd so I share with him what a pleasure it is that I've known him for six years now speaking on Twitter.
"Andrew we must go and have a beer sometime in the summer.'
Probably outdoors but I can't wait.
Nitin Sawhney new album Immigrants on his website nitinsawhney.com and he will be touring later in the year, dates and tickes can be found here
Feature image by Suki-Dhanda