Lexus – In Search of Takumi follows leading British craftspeople as they each create a one-off piece inspired by the design and fine Takumi craftsmanship that goes into Lexus vehicles. The films present these leading craftsmen and unique pieces they created in Leather, Glass, Metal and Wood.
Takumi is the Japanese name given to an artisan unrivalled in the skills of their craft. It is a quality Lexus holds very sacred.
Lexus continually push the envelope of vehicle design and construction. Scrutinising every inch, manipulating and refining in search of the perfect user car experience.
To reach the level of Takumi master in a Lexus production facility is a great honour. The award also comes with a responsibility to teach, lead and ensure the very highest level of quality is reached at every stage of manufacture.
Watch the Lexus Search for Takumi
Leather
Leatherworker Otis Ingrams creates a stunning bespoke chair in the first film. The chair is designed to reflect the balance between amazing structures possible with the aid of computers and machines what Otis believes is the continuing need for the human touch of Takami. He explains in the film 'I chose to do a running stitch on this piece is that it can't be replicated by a machine – it's very clearly done by hand'
The chair is inspired by the award-winning design of the Lexus LC. Otis was taken by the interior door panels which he found 'Incredibly sculptural' He explains the process was about trying to mix the sense of speed, dynamism, the sense of acceleration that you get just from sitting in the car or looking at it and trying to translate that into a piece of furniture.'
Glass
The second of the films follows the creation of a piece by Peter Layton a London based artist who has been working with glass for over 50 years.

The Kiriko glass door inserts in the Lexus LS saloon created by Japanese craftsman Toshiyasu Nakamura, and the car's grille inspired Peter. 'I thought they were stunning, beautiful. I knew they had taken a long time to design and make and my first thought was to emulate those in some way for our piece.'
Metal
Blacksmith, Will Barker creates a sculpture forged from a single block of steel. The form erupts from the ground and Will says 'this piece conveys a passage through time; time spent learning the skills to be deserving of the title Takumi'. Inspired by the metal Hadori door trim in the Lexus ES F Sport saloon that emulates traditional Japanese sword-making techniques. Will's piece rises up to a stunning peak created using a process used in Katana sword-making called Damascus steel where the metal is folded over and over to create thousands of layers.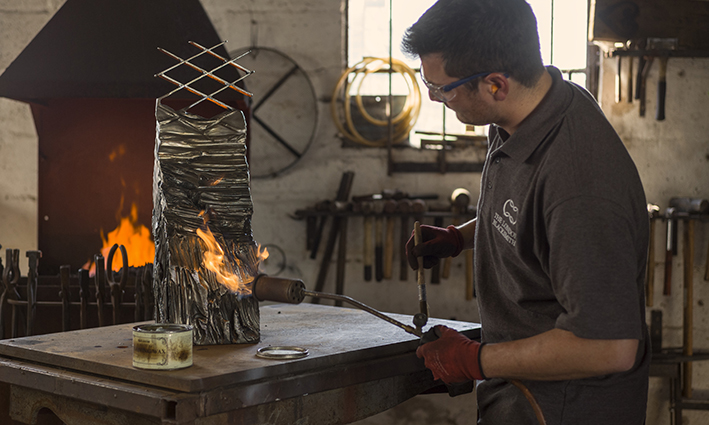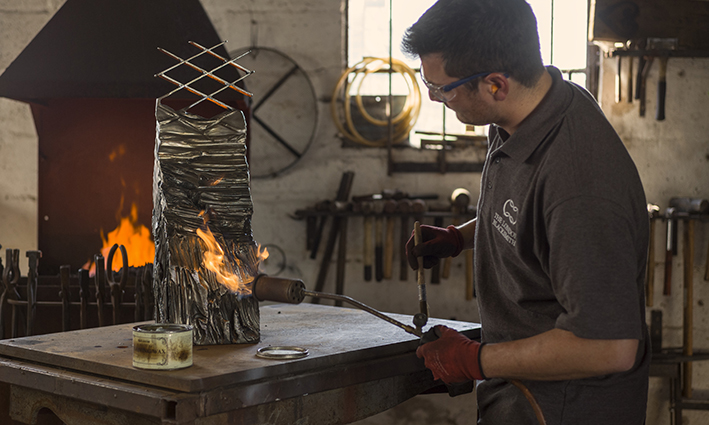 Will explains his personal search for Tukami beautifully,
'Takumi is where you take the set standard and strive for better, strive for more'
Wood
Episode Four follows the transformation of huge, 50 kg log of 100 year old English Sycamore into a richly textured and sculptured bowl. Wood worker and designer Sally Burnett took inspiration from the details and tactile surfaces she found in the Lexus RX L. 'The wood itself that's inside the car was really quite fascinating. The steering wheel is just a joy to hold and the surface, although it has a lot of texture, is actually quite smooth to the touch. But I really liked the richness and the tones within it, it's a very deep colour. I wanted to replicate that and that's one of the reasons why I opted to use the bronze dyed silver leaf because for me that evoked the colour of the wood that was in the interior.'


Sally, an expert in working wood, as well as glass and ceramics, had to learn a new skill, hand carving the wood to attain the surface detail she wanted for this piece. A Takumi never stops learning, they are continuously improving and refining in order to achieve excellence. 'I don't think you ever stop learning,' says Sally, 'For every single project that you do, there's always something new.'
Get a rare insight into the Lexus design studio, ED2 in our Designing Lexus article
For more about In Search of Takumi and the full Lexus range visit www.lexus.co.uk