The Chatsworth Country Fair is an epic celebration of country life on an epic scale.
By Sam Clark
Being rural-hearted urbanites, my family and I have visited village fetes and a few country fairs. But nothing had prepared us for the sight that greeted us as we drove over the hill into the Chatsworth estate. This is the World Cup Final of country fairs.
Thinking back, it was strangely reminiscent of a romantic weekend in Paris I arranged for my wife once when we were still young (ish!) and carefree. After a leisurely breakfast of fresh croissants, we strolled hand-in-hand through quiet Parisian backstreets towards the Seine. Turning the last corner, we discovered, to our great surprise, that we weren't alone. Most of Europe had beaten us to the Eiffel Tower. I still owe my wife a trip back to see the view from the top.
Anyway, back to Derbyshire. Where the rolling hills had been transformed into an enormous sea of enticing marquees, smoking food stalls, lively entertainments and much more. Unlike our unexpected cue disappointment in Paris, we parked easily and strolled straight into this tremendous rural extravaganza. The organization is seamless. As we are happily becoming to expect at events on the Chatsworth estate, the staff are welcoming and friendly. We always find a lovely atmosphere at Chatsworth. It feels like something very special that you're sharing with good friends.
Central to the fair is the Grand Ring, a show arena with extraordinary displays of falconry, equestrian events, acrobatic JCB diggers and daredevil motor bikers. Meeting the pack of hunt hounds in the ring is an irresistible invitation of joyful waggy tails for all dog lovers.
There are so many dogs visiting with their owners they are almost a show themselves!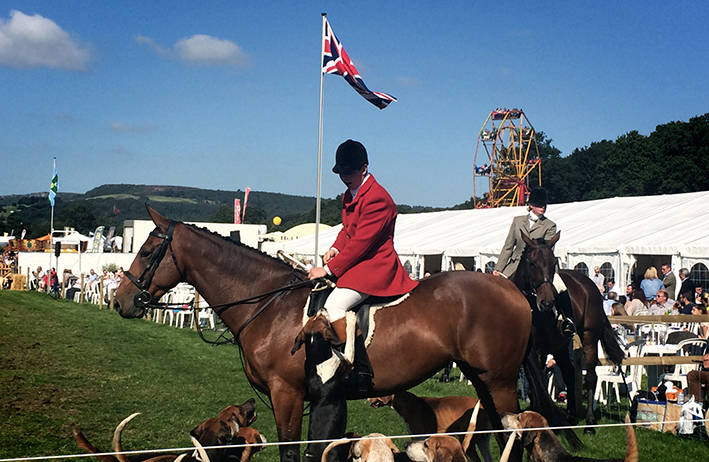 Marquees are full of artisan food and drink, arts and crafts, waxed jackets and everything else the country gent and lady might need. Experts and celebrity chefs, including Mary Bery and John Torode, give talks and demonstrations full of knowledge and inspiration.
My family went off to look at, try, climb-over and sit-in the many other attractions. The Formula One simulator was top of my son's to-do list. I tried my hand at the shooting range. Firing a range of increasingly large and exotic-looking guns. The final was an enormous muzzleloader with an explosive recoil that nearly took my head off!
There's not just something for everyone, there is loads of things for everyone! Even dogs have their own purpose-built aquatic fun pool!
Chatsworth Country Fair is held over the first weekend in September. You can find more details and book tickets on the Chatsworth website.
---
Read about the fabulous RHS Chatsworth Flower Show here