Interview with Hôtel Martinez General Manager Yann Gillet. 
By Andrew Threlfall.
Cannes made a historic comeback this summer with more fanfare than a Michael Jackson 50-night residency at the o2. And significantly more staying power through to the final weekend's awards. The 75th Edition was a blast. As magnificent as any in it's colourful history.
The first Cannes International Film Festival, in late August 1939, was followed by the second edition in 1946, delayed as a result of the World War. Covid killed off Cannes 2020 and no one really considered last year's scaled-back roasting hot July version as a true representation of the Festival. This year was, with hangovers to prove, The Real Thing.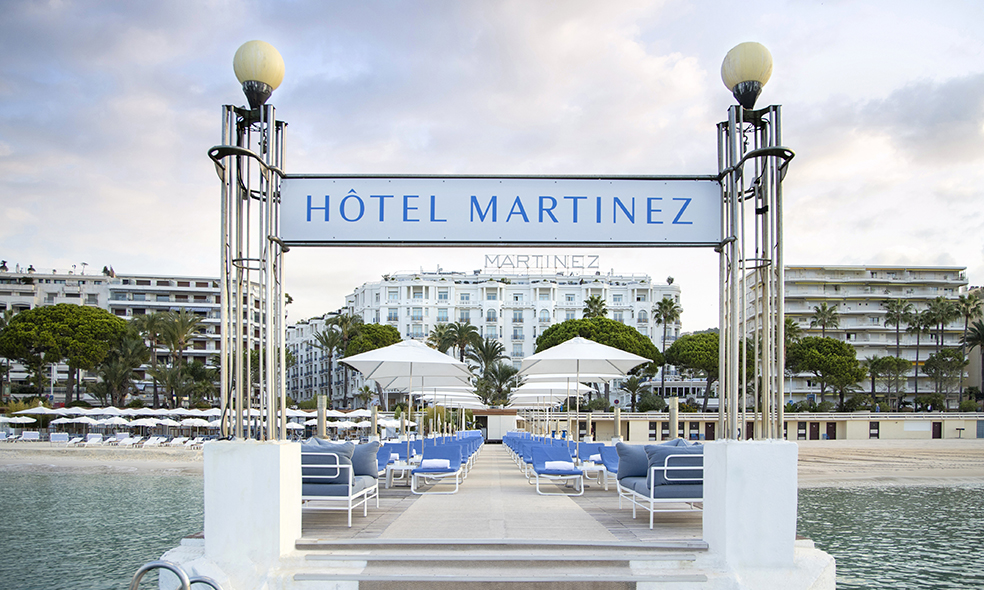 And at its heart were the hotels – and their jampacked lobbies – that line the Croisette. All except one, the Carlton which looked like a construction site (or the set for one, you never can tell here in Hollywood On Sea).
In the Carlton's absence, Hebbonair got the call to enjoy the hospitality at the undisputed premier hotel, the legendary Hôtel Martinez.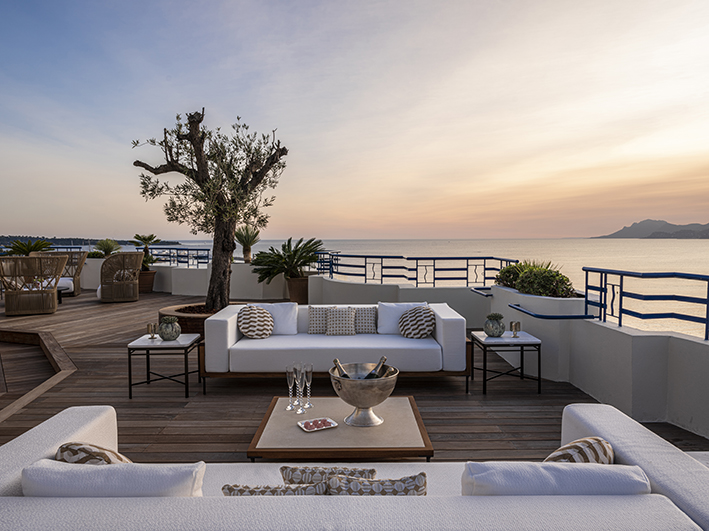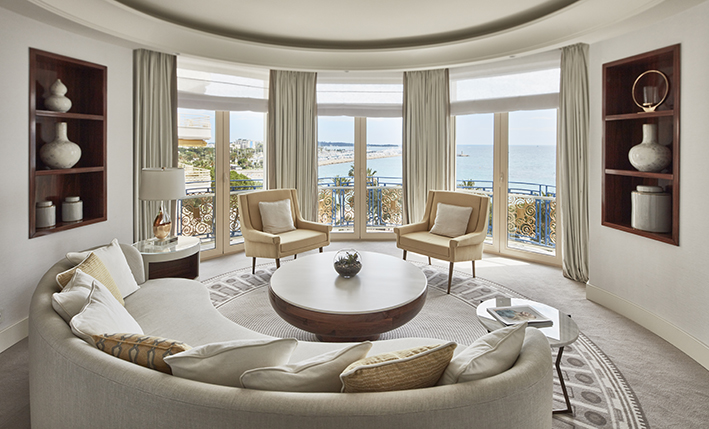 Hôtel Martinez, the premier location of Cannes
In between starters, mains and deep tissue massages I sat down with General Manager Yann Gillet, a one-man oasis of serene calm in the hurly-burly of the all-important lobby.
Oh, the lobby. It's a whir of activity but now and then there are audible gasps of appreciation for the huge portrait of the hotel founder, Emmanuel Michele Martinez. More of which later. Beauty is all around as the song goes, and supermodels like my friend Ksenia Islamova, who I am dealing with here as she receives audible open mouthed gasps in her self-designed red carpet dresses, waft through on impossible clouds of elegance. This is THE meeting place this summer.
I know the Hôtel Martinez well and have very fond memories. I even proposed to my on/off paramour Li Bingbing back in the day in her incredible suite. But that's a story for another time.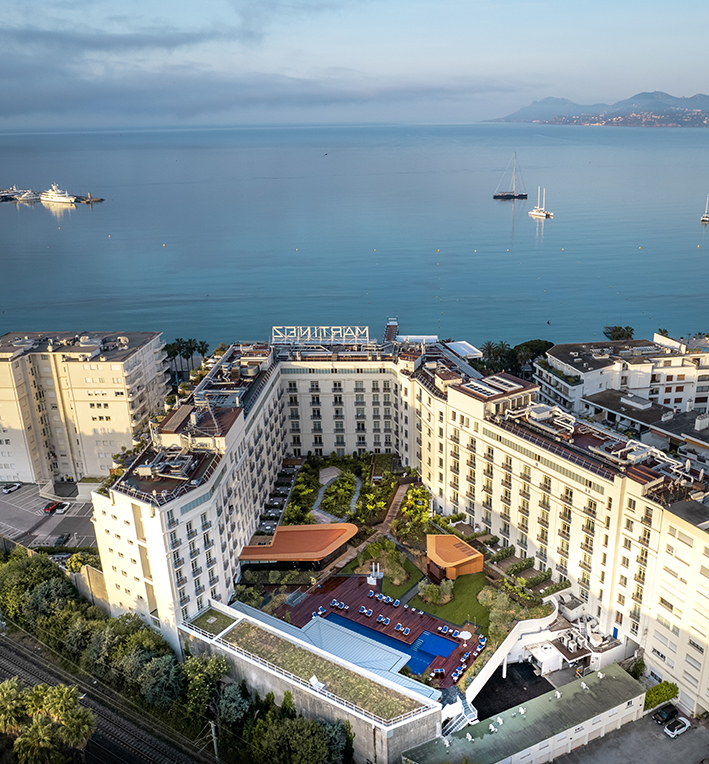 The hotel manager, Yann Gillet.
AT: Cannes this summer, with the Carlton actually closed means the Hôtel Martinez must be the place to stay?
YG: I think it always has been. The Carlton absolutely was (our main) competition but I think it has always been a premium place for celebrities to stay at the Hôtel Martinez for important guests. We are doing very well this year Andrew, maybe too well! Because the Carlton is closed but if this is the case then maybe also it is because we have done extremely well with the Film Festival this year. Also, there is this desire to come back to go out to enjoy life and there was an incredible energy in Cannes. And the weather was amazing for the festival. It was a great combination.
AT: How many years have you been the general manager at the Hôtel Martinez?
YG: I have been here for three years and previously I was working in Sao Paulo in Brazil – even though I am French. I absolutely love Brazil it was one of the most amazing experiences in my life working in Murumbi.
New highlights for the second week
AT: Why has this year been exceptional?
YG: For the first time the hotel has experienced a second week of the festival that was actually busier than the first week. Amfar the famous Sharon Stone fundraising event is obviously on the second Thursday, but also some very significant premieres happened in the second week including Elvis by Baz Luhrmann.
The actual programming of the Film Festival has changed to make the second week even more attractive than usual. The second week is much much better now and all of the celebrities are coming in that second week to stay with us. Obviously, in the first week, we had Tom Cruise and the enormous success of his Top Gun premiere and red carpet event…
A Selfie-free zone for Tom Cruise
AT: That must have been a thrill for yourself and the staff to meet Tom?
YG: He is an amazing guy and we had a very nice chat. Very professional, very sweet and it was wonderful that he was awarded the honourable lifetime Palme d'Or. He really took the time to say hello to the people who work here in the hotel. We have a strict no selfie request policy including myself and all the staff with the celebrities. They choose to come to the Hôtel Martinez because they know we will not ask this of them.
AT: Cannes of course famously, has banned selfies on the red carpet. Is your hotel policy an extension of that?
YG: The way I see it is they are true professionals and actors and we respect them a lot. This is also a place for them where their target audience reaching the film industry and media is made. And we appreciate that they do not like it all of the time to be asked for a selfie so our staff are trained not to bother them and I think they come to us because they know they can live their lives in a very tranquil way.
I think they rely on us which is why we respect their privacy and tranquillity. We are known for this at the Hôtel Martinez. We have never chased photographs or selfies. Cannes I think will always be the premier festival in the world because it is unique and film stars like and enjoy working on their project and the quality of the relationships they are making. Cannes is all about making connections in one day that you might never make in ten years anywhere else. Everyone meets here.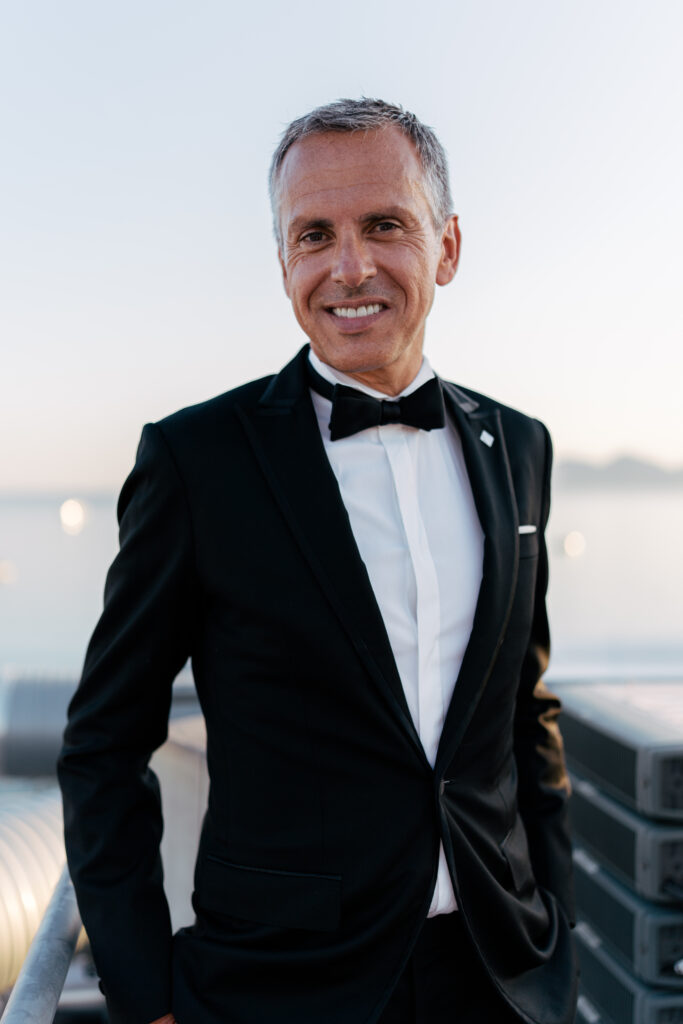 The heart of it all
AT: How important is the role of the lobby of the Hôtel Martinez for this unique atmosphere?
YG: You can see that the lobby is full of people all of the time and it's like they all know each other. Ordinary people and star celebrities bump into each other in a lobby and it's all about this unique meeting place and talking about the next movie projects they might work together on. As an observer, it is clear to me that it is an amazing family in this movie industry. The lobby really is so important as it is the place where we meet but we keep it as a tranquil sanctuary which is really important. The lobby might also have photographers or guests who are not part of the film industry, but everything is conducted respectfully.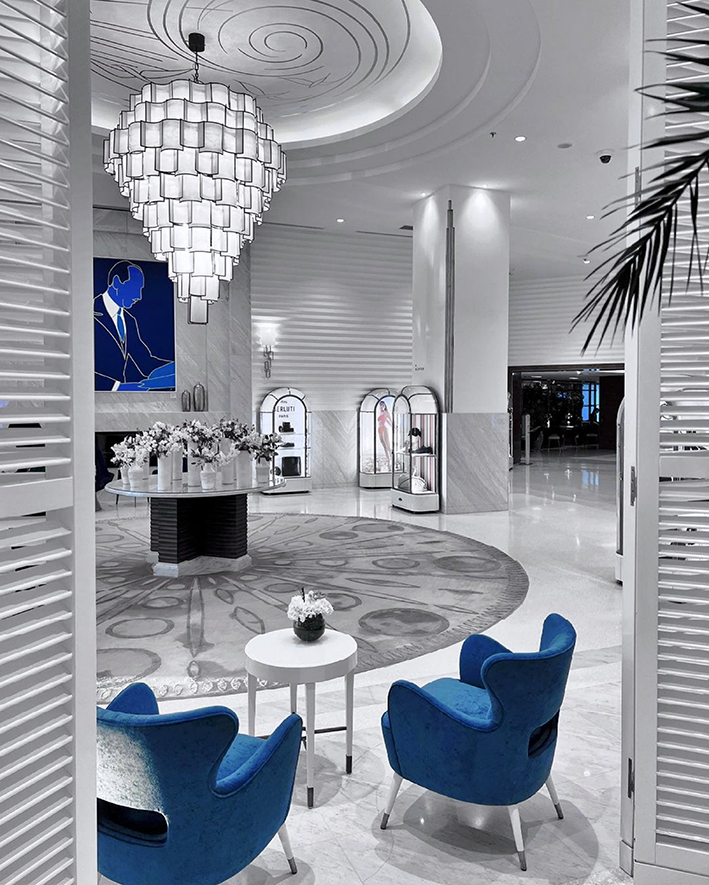 AT: Security has certainly tightened up at the film festival and in France in general. Do you ever feel a little bit apprehensive?
YG: No, because obviously, our hotel's reputation exists because of the film festival. And it is of course paramount for the mayor of Cannes and all the stakeholders to make it better and probably also bigger each year. So we are a very secure hotel, and very clean also. In terms of sustainability, we have invested very heavily in the maintenance of the beach (across the road from us). We aim to provide a relaxing, pleasant, fun, safe environment here in Cannes. We are proud to have our platinum Green Globe certified hotel credentials so we comply with all sustainable and ecological targets. Our recruitment is also all about equality and in particular, we are extremely committed to gender equality.
L'Oasis du Martinez, back in bloom
AT: You've invited me to try out the new wellness centre, L'Oasis du Martinez, which literally opened the same week as the festival…
YG: The garden is part of our new development and it was developed mainly for guests who do not have the chance to face the seafront. For anyone who can remember, the garden used to be the top of the ballrooms and the car park. Originally when the Hôtel Martinez was first constructed the most popular rooms actually did not face the sea. Instead, it faced inwards to a beautiful garden. So now we have that back. That's why we are a U shape incidentally. So we have transformed that area, the staff quarters and also what we call The Whitehouse into a three-story spa located in a Garden of Eden setting. I would love you to try it after lunch and let me know what you think Andrew!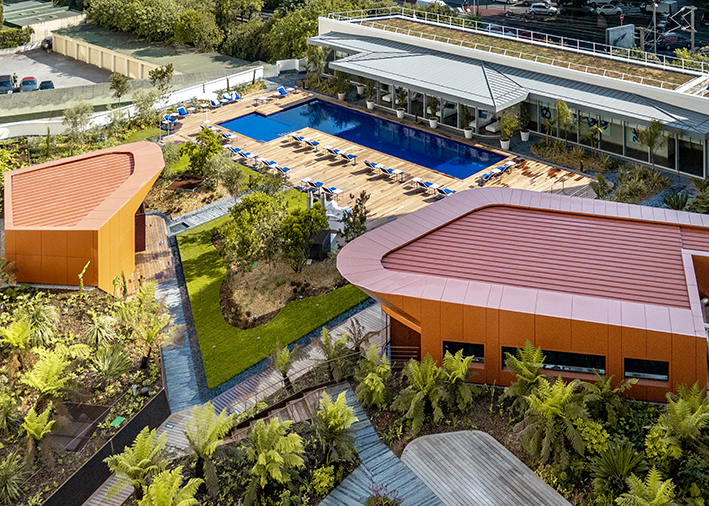 Living the dream
AT: Yann, you strike me as a very happy content man. Is this the dream job in your profession?
YG: Absolutely I think for me it was always a dream destination. I have known this hotel very well for 20 years. I might be from Bordeaux but my wife is from Cannes and for me, this was always the most iconic hotel. Every day I arrive on my scooter and as soon as I see the iconic Martinez signage I feel so fortunate.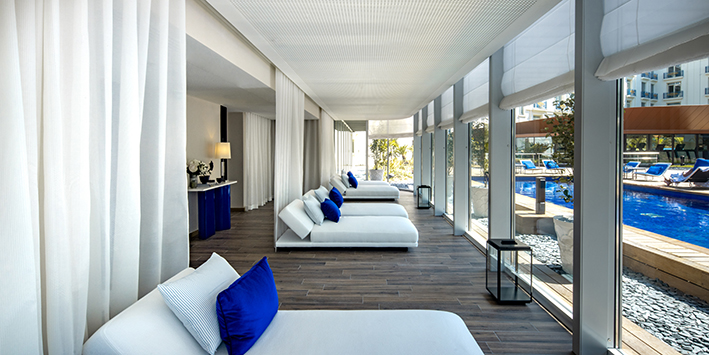 AT: Would you agree that it has always been true that most of the activities and action during the film festival has existed on the croisette between the hotel Majestic and Le Palais at one end and the Hôtel Martinez at the other?
YG: Yes but I think that is set to change. The future will see the Hôtel Martinez right in the middle of the action because of the development at Palm Beach to our east. There will be amazing new restaurants in the developments out there including a Zuma. It is all under construction now and will be hopefully ready for next year's Film Festival in 2023.
The Hôtel Martinez will be exactly in the middle between Le Palais and Palm Beach. This will be an absolute game-changer for Cannes. The destination is growing and getting better and better year by year and we will be right at the heart of it. Then in 2025 La Croisette itself will be completely rebuilt to make it the best promenade in the world. Better even than Rio and Copacabana! It will heavily promote green transport with pedestrian walkways and bicycles.
A portrait of Mr Martinez
AT: Your beautiful hotel has been enhanced even further by a collection of paintings on each floor – beside the lift – by Alan Walsh, a former colleague and neighbour of mine from Yorkshire and Notting Hill.
YG: Alan's art is integral and he is almost part of our design strategy. I loved the the painting he made of our original founder Mr Martinez. He absolutely represents our artistic philosophy. Even the colour palate works beautifully. When you switch on your television in your hotel room those images are the home screen. It works beautifully. He and his wife Emily are also wonderful people. It's great that they are literally just down the road from us in their gallery in Monaco. A visit to this part of the south of France should really include lunch or the wellness centre here and perusing Alan's fabulous gallery.
And with that, we promised to stay in touch on WhatsApp and see each other a year from now. I was truly blessed to then be allowed a deep tissue massage on some very deep tennis injuries. There are eight full-time masseurs, I was fortunate to have a young lady called Narwen (apologies if I've taken that down wrong) who was part of the expanded festival team. For the record, my body was incredibly loose for tennis the next day. She was gifted beyond her years.
For more information and booking enquires visit the Hôtel Martinez website here
---
Portraits of Yann Gillet @arolpicture
Hotel images curtesy of Hôtel Martinez
---
Cannes really did come back to reflect it's former glories in 2022. May 2023 will be booked up earlier than ever. And most hotel rooms for the festival have gone by the preceding November, a full-size month out. Contact the new Cannes Tourist Office website for help and information.