Nutters Savile Row – Tommy Nutter changed bespoke tailoring forever.
Interview with Joseph Morgan, bespoke tailor and cutter at Nutters of Savile Row, by Sam Clark
1969 was a historic year for exploration and sartorial expression. Neil Armstrong took the first steps on the moon and The Beatles strode out across Abbey Road. It was a heady time filled with a psychedelic kaleidoscope of innovation, music and style.
Three of The Beatles were captured in the iconic Abbey Road image wearing suits by the exceptional Tommy Nutter. Tommy's flamboyant style had created a sartorial storm on Savile Row, turning conservative bespoke tailoring on its head. Joseph Morgan, a cutter for Tommy, remembers, 'That was the whole thing about Tom's clothes. They were new and exciting. It was like a formula of what we did and what we wore.'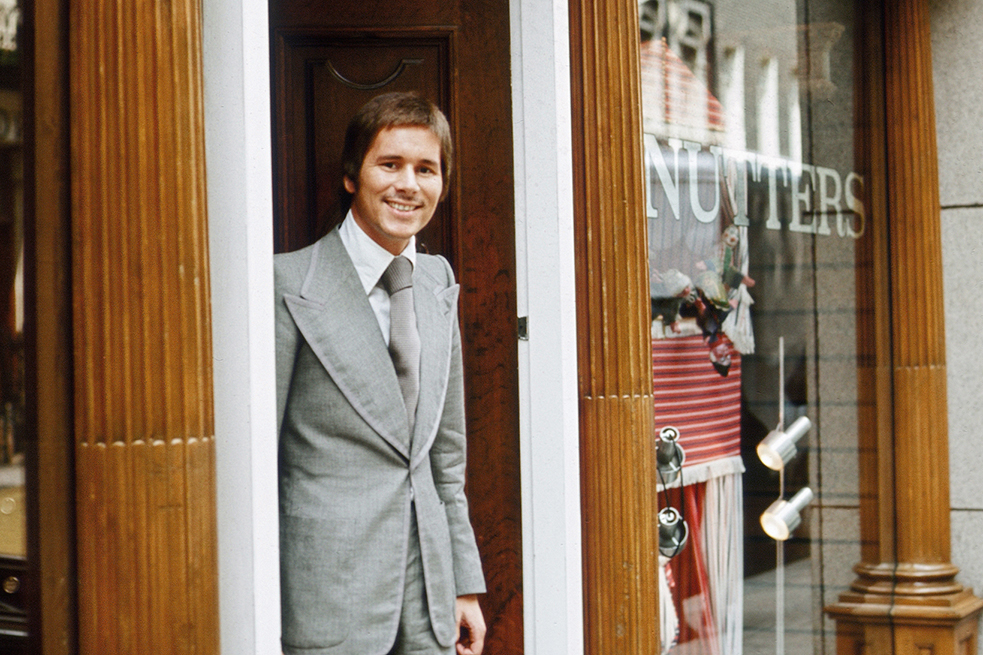 A Style Revolution
Tommy Nutter and Edward Sexton met in 1967 while working together at Donaldson, Williams & Ward, a traditional tailors in the Burlington Arcade. Tommy was a salesman with great ideas and he soon joined forces with Edward, a talented cutter. Edward's tailoring skills brought Tommy's wild sartorial visions to life.
On Valentine's Day, February the 14th 1969, Tommy and Edward opened Nutters Savile Row Ltd, 35a Savile Row. It was the first new tailors to open on Savile Row in a century. Financial backing came from James Vallance White, a Clark at the House of Lords, Bobby Willis and Cilla Black, and Peter Brown, assistant to The Beatles. The racks of client patterns were soon filled with the measurements of the most famous celebrities in the world.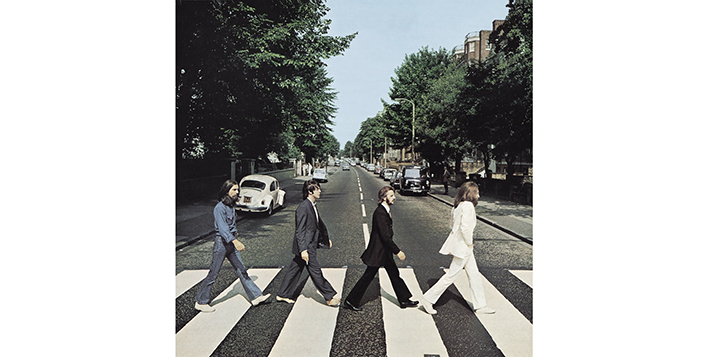 Savile Row tailor Joseph Morgan, a cutter at Nutters with Tommy and Edward, continues this exceptional sartorial lineage at Chittleborough & Morgan bespoke tailors, Savile Row. We chatted with Joseph about Nutters, how it transformed Savile Row and the world of bespoke tailoring.
SC: Who were you working with at Nutters?
JM: When I joined Nutters there was Tom, Edward and me. It was just the three of us cutting with a young trimmer called Tony and an alteration fellow Jim Ding, a fantastic bloke. I learnt a lot from him. Roy Chittleborough joined in 72, or 73.
SC: Tommy's tailoring pushed the boundaries of sartorial convention, introducing colours and patterns that had never been used in bespoke tailoring. What was so special about the Nutters unique new style?
JM – We created bespoke garments the same way as everybody else on Savile Row but styled with Tommy's designs. Jackets had a square shoulder line, wide double-breasted lapels, a very close narrow chest, two cross flap pockets – out ticket flap. They were very nipped in the waist with lots of skirt in those early days, long centre or side vents and outbreast welt. We would hollow the underarm cuts to get them very close, above very narrow sleeves.
Waistcoats again would be top welt bottom flaps. Because we put the trouser high, the waistcoats would be nice and short, not long like they are in ready to wear now. Trousers had plain fronts. Side pockets were initially the norm until we moved into the next phase, which was shorter jackets and jetted pockets.
Sartorial style for the stars
SC: Nutters tailored for many famous clients, Elton John, Mick Jagger and Bianca Jagger and many more. Were these relationships quite relaxed or more formal arrangements?
JM – Tom knew all these people and they would just come in to see him and order clothes. Tom was in the middle of everything that was happening.
What I remember about Elton [John] was that we had to make things very quickly!
SC: Tom was pushing the conventions of shape, colour, patterns and style. Did he discuss ideas with clients?
JM: People coming in knew you would get the same quality of work as the other tailors on Savile Row. Tom emphasised the style – the wide double-breasted lapel, two quads, flat-out ticket, side-vents. That was the model.
Tom would talk about this and sometimes do some drawings. Sometimes we would get some young people coming in and say, 'could you do this? And could you do that?', because they knew about Tom's ideas and Tom would say, 'Let's do it!'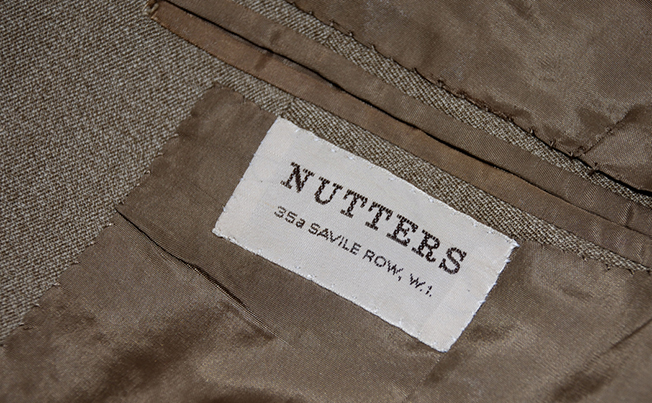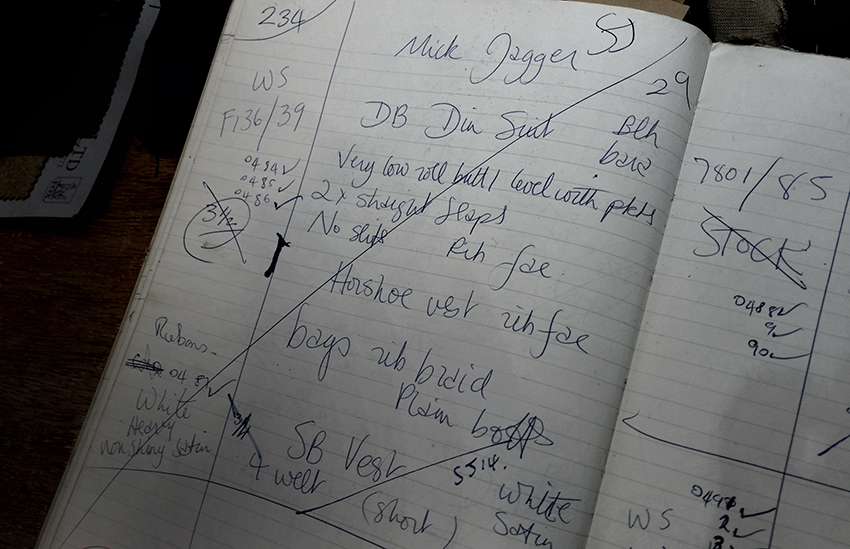 SC: Did you ever have any particular or unusual requests?
JM: We made a shooting jacket with cleats on the back for Tony King, who looked after Freddie Mercury, The Beatles and others. Tony was at a party, and as someone passed him by, they put their hand on the pleats on the back of the jacket and said, 'Oh, excuse me'. That became another of the sort of topics that amused Tom. He took the pleats and put them in an ordinary suit so people could wear it to parties. That was just like a joke back then but we're actually working on one now in Chittleborough & Morgan.
The secret of David Hockney's wardrobe
JM: David had this sort of cool look. He would wear different combinations of jacket, waistcoat and trousers. I once asked him, 'We make suits and you put them on and they look totally different. How do you do that?' He said, 'Well, I don't have any hangers in my wardrobe. I just put clothes in and they fall to the bottom. Then I pick them up and I wear them.'
After that, Tom would find different tweeds that harmonised together. We would make a jacket, waistcoat and trousers all in different checks for David.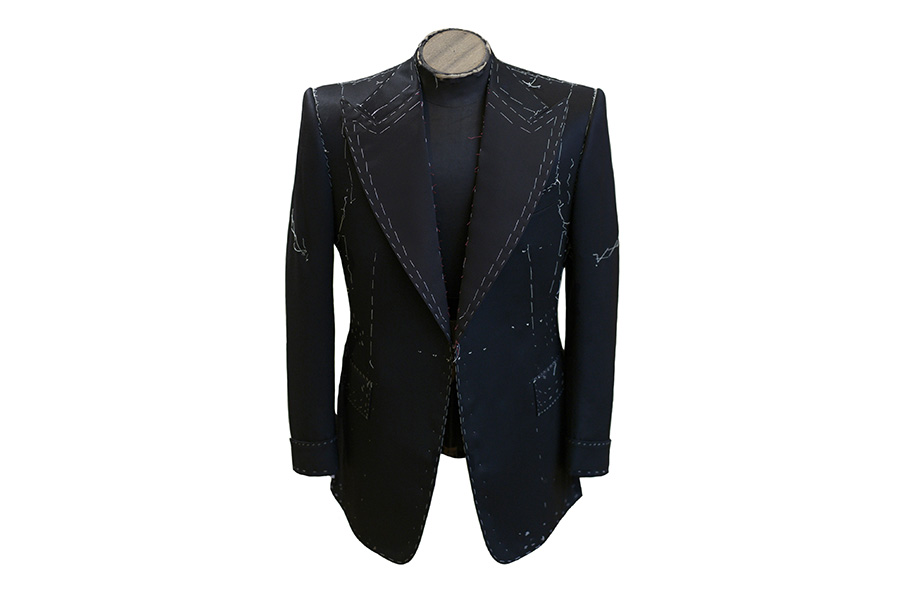 Nutters brings a dawn of colour to Savile Row
SC: What was Savile Row like at the time? The arrival of Nutters must have made quite an impact.
JM – Well, Savile Row was very different to now. Everybody would be recommended. You couldn't just walk into a shop and say 'Will you make me a suit?'.
The other tailors wouldn't attract clients in from the outside. They didn't really have any display windows. There were no clothes or models in the windows, it was all just cloth. From those very early days, Tom had a very dear friend called Michael Long. He used to work for Jaeger and would come in and work on the windows to create something unique, a visual impact to draw people in. I remember he would wear Patchouli, a fragrance that many young people used at the time and the shop would be filled with a whole atmosphere of this unusual fragrance.
SC: So I imagine Nutters was a colourful oasis in a sea of navy and grey. Were you all wearing suits like Tommy?
JM: Well, initially, when I first went for my interview, I was wearing a stiff collar and had a two-inch lapel on my grey stripe jacket. But as soon as I got there things changed. Lapels were maybe five inches. The whole concept was intensely different.
 SC: What happened to this fantastic sartorial movement? 
JM – It got bigger and bigger until Tom left in 75 I think it was. The rest of us continued to work on together until 80/81 when Edward said he wanted to branch off on his own and took Jim with him and a fellow called Eric Norris. I asked Roy if he would like to do something together and we started Chittleborough & Morgan. We were originally on the same site as Nutters, but Westminster City Council decided to redevelop the building and knocked it down. We relocated to several more premises on Savile Row before settling in our current location, former Huntsman's workshop, in the basement at number 12.

---
Chittleborough & Morgan continue to push the boundaries of high-quality bespoke tailoring at 12 Savile Row, London W1S 3PQ. More details can be found on their website
Joseph Morgan portrait and Chittleborough & Morgan suit photography by Lee Osbourne
---
Have we found new tailoring talent, George Adeyemi?