Bespoke Tailor, South London based George Adeyemi
Interview by Sam Clark Photographs curtsey of George Adeyemi
The greeting we receive from bespoke tailor, George Adeyemi is like a warm, generous force of nature. We're talking like old friends before we get through the door. I can't remember meeting a tailor, or anyone, for that matter, with so much enthusiasm, passion and joy in what they do. As well as a highly-skilled bespoke suit and shirt tailoring, George has found a clever way to offer another option to his clients, his full Koat style and quality but at a lower price. We sit down together and get swept away into a world of style.
SC: Why is bespoke tailoring so important to you?
GA: Bespoke is special because I think it fits perfectly into how we live now. If you have something made just for you, I think you cherish it. If I make something for you, it will be totally unique and won't fit anyone else.
You can't compare bespoke to fast fashion. We're all talking about the environment and sustainability, and you will have a bespoke suit for the rest of your life. Like many high-quality tailors, I construct bespoke garments with extra material hidden in the seams so it can be altered over time if your fit changes. What makes this quality extra-special comes from passing down a beautiful bespoke garment from generation to generation.
SC: What makes a Koat suit so special?
GA: It's the love, right. Because when you come to me, I look at you as a friend, not a client. We will sit down and talk about what you want. We dissect the occasion for it. Choose a style, fabric detailing features, whatever you want. So when you wear your finished piece of clothing with a smile on your face, that means the world to me.
As much as I believe in my products, every time I go to fit a client or hand over a finished suit, I get butterflies because it's so important to me. It's made with care, it's made with love.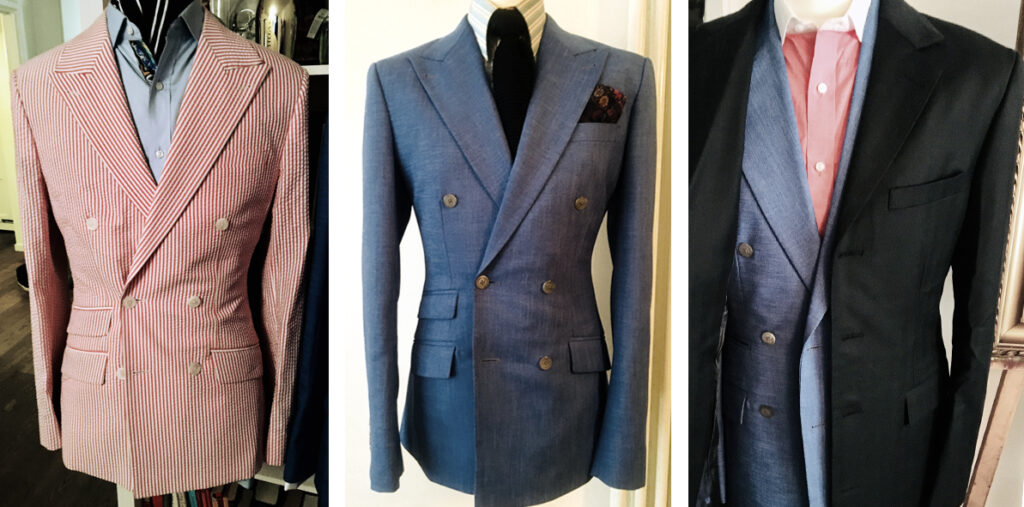 SC: As well as full bespoke tailoring, you also offer a more economic 'made-for-bespoke' service. How does that work?
GA: I have designed a range of suits and shirts in different styles that are already made up in various shapes and sizes. We'll pick one and I'll use it as a base to pin all the alterations on to fit it to your body. When I have it tailored to your body, I use it as a pattern to construct your personal suit. You still choose the fabric and can design it the way you want.
It's maybe seventy percent of a bespoke because the difference is really just the starting process. To start the process of bespoke, I will take your body measurements and draw out a pattern to cut fabric to make the suit or shirt.
SC: What items of clothing do you work on?
GA: I offer all kinds of suits; business, wedding to casual jackets, trousers and shirts. Everything is made by hand with the same bespoke process as in Savile Row. I come to you with all the fabrics swatches and you choose a fabric, your threading, you tell me what kind of style you want. You can even have it personalised with embroidered initials on your shirt. There's no limit to your design.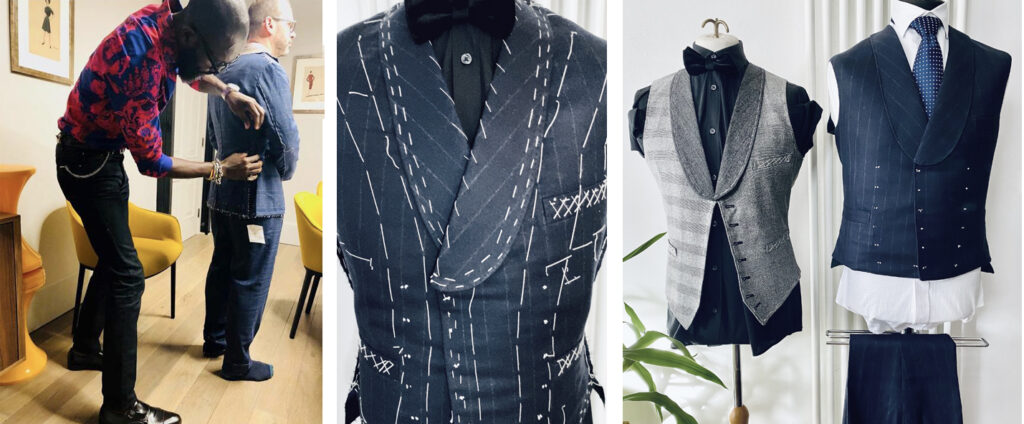 Developing a Personal Style
SC: Where did the passion you have for tailoring come from?
GA: I think it started from back home. I grew up in Nigeria, where you couldn't go to a store and just buy what you wanted. When we had parties, holidays, Christmas, our parents would buy a whole bunch of fabrics and send us to a tailor. So we would get garments made in our own style.
It gave me my first experience and excitement of the power of design. I had the opportunity to actually have an idea in my head and transfer it into reality with our tailor.
Creative Process
SC: When you were talking with your tailor growing up, where did your creative ideas come from?
GA: That comes from reading stuff and watching TV. There was no social media back then just TV news, music videos, business posts and magazines.
Learning the Craft
SC: What drove you to actually become a tailor yourself?
GA: I had all these influences around me. I was studying Computer Science at university, but I kept my passion for fashion and clothing and started dealing in fabrics on the side. After graduating, I went into modelling, which took me away from Nigeria and brought me to Europe. I came to the UK and became a fashion retail manager in Selfridges, where I discovered that guys my height had no chance because nothing fits. I'm tall, I've got long limbs and a slim body. T-shirts are ok, but I like to look smart, I don't want to wear casual stuff all the time. That's really where everything started, just by trying to find myself a better suit, and I spent the next four years studying at a tailoring school here in London.
Koat
SC: What is the meaning of your tailoring name, Koat?
GA: It comes from my Nigerian names, its a representation of me. Yemi is my Nigerian name, but my friends call me George.
SC: Where can we find you for a fitting?
GA: The particular service I provide is that you don't have to come to me, I'll come to you. From my base in south London, I can come to your office, home, or anywhere comfortable and convenient. If needed, I can arrange a suitable place in central London to meet.
A Personal Touch
SC: Do you have any kind of signature or personal design element in Koat suits?
GA: Well, I was gonna say my pocket square thing, [laughing], but I've seen it used a lot now. I don't know, maybe they stole it from me! What I do is use silk to make the pocket bags so in the situation where you forget your pocket square or you don't have one, you can just dip your hand in the pocket and turn it upside down for an instant pocket square.
Really, I don't think I have a signature, apart from making sure that everything I produce is of the highest quality.
To find out more about Koat bespoke tailoring and book an appointment, visit koatstyles.com
---
You may also like to read about historic boot makers, William Lennon