Médoc Atlantique gives a warm welcome, wonderful wine and Atlantic waves.
By Andrew Threlfall
Three lions on a shirt, Jules Rimet still gleaming. Ah, yes, Jules, the Frenchman who devised the football World Cup. Resulting in the famous England song about those lions, which were once incorporated in a famous flag flying over south-western Atlantic France, otherwise known in those days as Aquitaine. Yes, a part of Olde England, judging by The Frog and Le Rostbif, a pub in Bordeaux, beautiful Bordeaux which is well worth a short stopover before I head to Medoc Atlantique, a true jewel in France's own diverse tourism crown.
The Stansted flight is hellishly early, but arrives midmorning in Bordeaux so by 11:30am I'm dosed up with caffeine on a walking tour of the city with tour guide Bruno Coiffard (+33 (0)6 08 28 65 26). We meet at the Bordeaux tourist office, who are very aware that a swift tantalising glimpse into that British heritage of past kings and queens will wet the appetite of those who may have come straight from the airport on that early flight, for a city break visit.
To complete the whirlwind introduction to the city I lunch at La Brasserie Le Bordeaux. Lunch sets the tone for the next week: Eager to pay homage to local producers, the team at restaurant Le Bordeaux strives to produce a local cuisine reflecting ingredients from land and sea. An essential address right in the historic heart of Gironde's capital city, opposite the famous Grand Théâtre of Bordeaux, the Intercontinental Bordeaux Le Grand Hotel is spectacular. Decorated by the world-famous designer Jacques Garcia in the very heart of the city.
Lacanau-Océan
The Medoc region is around an hour drive west from Bordeaux. But now it gets a little confusing. I'm not staying in the small town of Lacanau, no I'm staying in Lacanau-Ocean, some nine km away on the coast. There are sixteen hotels in the entire Médoc Atlantique destination but my advice is not to bother with them. This area is all about the great outdoors and especially surfing, so spend less and enjoy one of the many Bed and Breakfast establishments. I stayed with wonderful hosts Anne and Stefan at 11 rue Paul Callède – 33680, +33 (0)6 67 34 61 56. The beautiful house has been created with great care as Anne explains over a splendid breakfast: 'Our guesthouse is made with family spirit.' The couple speak excellent English by the way, not always the case around these parts, so morning chats are greatly informative. I can't stress highly enough how this welcome beats any hotel. 
In search of wine!
The region serves as a quasi-religious backdrop to its many famous wineries and you'll be drinking a lot of red wine. The first stop of my tour is Queyrac to discover Château Carmenère with its very unique special grape variety here in the Gironde, where the estuary influences the soil. The wine here is produced from a black grape and uses a similar fermentation process to champagne production. And the tasting session is as euphoric as any bubbles going down.
There is, sad to report, very little by way of public transport throughout Medoc so we recommend you drink and drive moderately, especially as you're never more than an hour away from another red being opened. I head for Lunch at Valeyrac – Table d'hôte by Château Rousseau de Sipian, where a recent Chinese family acquisition has reinvigorated this charming destination well worth a night's stay in one of its dramatically styled rooms. A word of warning though, this historic old building can be very cold if you catch the wrong day as I did, so take some thermals just in case, especially if you are staying overnight.
A visit to Chateau St Hilaire is needed if you're interested in Aquitaine livestock, many tourists are as meat and wine is a way of life here, but did you know that the word Cattle originally meant movable personal property, especially livestock of any kind, as opposed to property.
For a change of wine sampling pace if it's an amazing rosé, you're after – head to a tour of the vines in an old Volkswagen kombi van at Chateau La Hourcade with a presentation of Vigne Authentique, a wine tour in difference. 7 chemin de Noaillac – 33590 JAU-DIGNAC-ET-LOIRAC +33 (0)6 10 26 41 89
A break on the green
I needed by now to relax and give my liver a day off so played a few holes at Exclusiv Golf by UGOLF at Lacanau Domaine de l'Ardilouse – 33 680 LACANAU +33 (05) 56 03 92 98. A beautiful course made all the more endearing by actual dear playfully getting in the way of your hole-in-one. There are three courses in Lacanau and they all have stunning undulating fairways. UGolf also has a first-class hotel on the course itself.
With next to no public transport a trip to Garage à Vélos for an electric bike hire is a must. 108 avenue du lac – 33 990 HOURTIN +33 (0)5 56 09 69 60. My trip thus far had not been blessed with early summer heat so a 30km stretch of Vélodyssée Hourtin, sort of a bike path but with plenty of bumps and even a nuclear missile silo was a great way to relax before lunch at the Galipo restaurant at CarcansPlage.
Carcans Plage is a spectacular Copacabana-esque beach and just the place to unwind after the specials at Le Galipo, 2 rue des sapins verts – 33121 CARCANS PLAGE +33 (0)6 62 66 45 13
Refreshed I completed the Vélodyssée stretch from Carcans Plage to Lacanau-Océan. Energetic Tour de France types can actually take it all the way down to Biarritz with stunning views.
I was told that there are two are two naturist beaches in the area, I'll let you Google – Dépée beach at Grayan-et-l'Hôpital and Saint-Nicolas beach at Le Verdon-sur-Mer. But the water is cold, very cold all year round so only the brave survive!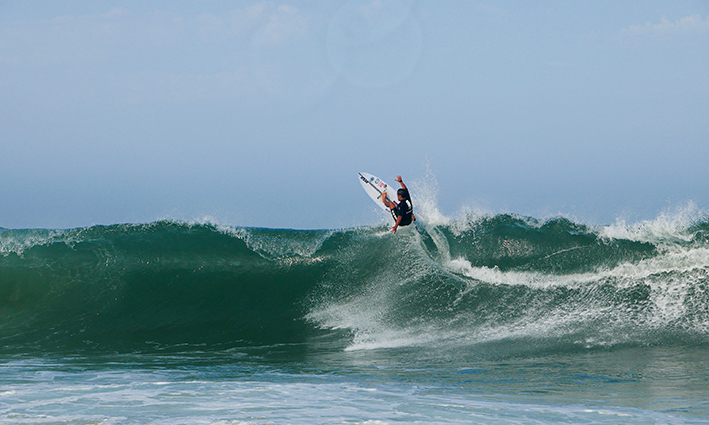 Surf's up!
Arriving in late April I'd successfully escaped my hay fever but had taken a risk on chilly weather. On my last day the Medoc Atlantique team based in the Lacanau Ocean office – that's Aurelie, Lucile, Emmanuelle, Nicholas and Pierre-Louis – proudly announced the arrival of a hot sunny day, perfect indeed for surfing. I headed off to try out some paddle boarding on lake Lacanau with Evolution2 and with Cris Loisirs. Plage du Moutchic côté Ouest – Lac de Lacanau – 33680 LACANAU +33 (0)6 08 34 59 07. Not easy at first! I decided that even crouched on my knees, I could imagine just how cold the water would be in the lake if I fell in. Thankfully no wet suit was required – unlike the surfers out in the waves, who all donned head-to-toe protection from the cold. Across the road from the lake I had lunch at Le Boucantier, where the pace is slow and the late afternoon buzz requires a beer or two as the clientele wander over for lunch from lakeside activities.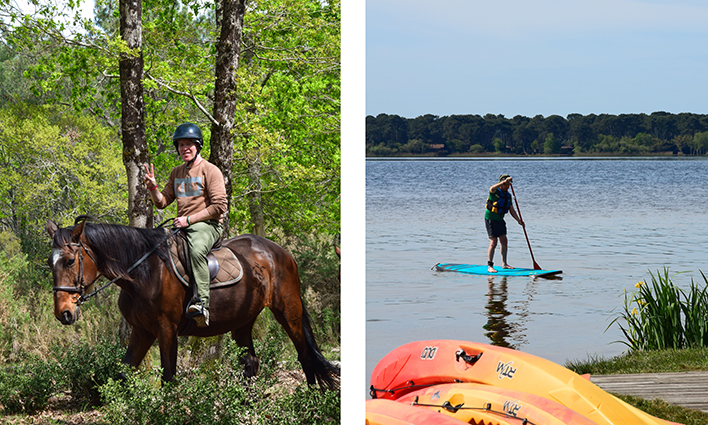 I had just about energy left for some bareback riding at the Centre Equestre du Cardin, a horse facility where the basics are taught. It began with behavioural equitation, grooming, a choice of saddle to be fitted if you prefer, and then a stunning walk through the forest aboard a beautiful young filly I'd been lucky enough to be paired with. Communal de Cardin – Ferme de la Mariflaude Pay Blanc – 33 990 HOURTIN
Returning to Bordeaux airport – located West of the city and therefore within easy reach of the Atlantic coast, I realised that the experiences, the wine, the food, the architecture, had all easily matched that of the Cote A'zur for around a third of the price. In addition, Ryanair currently – and -possibly right up until the summer school holidays – charge as little as £16 each way from Stansted so even a long three-night weekend will cost less than dinner and tickets to a Premier League game, if two of you travel and stay at Anne and Stefan's. And then…there's the wine!
---
Read about more of our tasty travels through France. Champagne the home of bubbles!