Le Loir, France
Article and photographs by Sam Clark
After spending several thrilling, car-charged days in Le Mans we headed out to Vallée du Loir to slow down a little and refule.
Le Loir is a picturesque valley following along side the Loir river in the Sarthe region, north west France. The area is largely overlooked by many tourists who tend to head to its bigger sibling, La Loire, 40km further south. Because of this it's generally much quieter and feels more off the beaten track. But, I think because of the ebb-and-flow of the huge numbers of motor racing fans that periodically descend on the area, we found the locals are used to visitors from around the world and we received a very warm welcome from everyone we met.
A Well-kept Secret
The Le Loir France tourist board's slogan is 'Un Secret Bien Gardé', A well-kept Secret, and after exploring for just a few days we found it to be really full of hidden treasures. Wonderful food, wine, wild animals and with such a rich motoring history you are never far from some sort of racing connection.
Hotel de France, A Motor Racing Landmark
Leaving Le Mans south past the Circuit De Sarthe, home of the 24 hour race, we didn't go far before stopping for lunch in the Hotel de France. This racing landmark has a long connection to the sport. It was made famous in the '50s and '60s by John Wyner, the successful British racing team manager and owner. Wyner wanted to keep his drivers focused on driving and away from the destructions of the track so set up camp at the hotel for Aston Martin and then the iconic Golf team. The walls are adorned with photographs of drivers lined up in the small square in front of the hotel from where they used to actually drive the racecars out to the racetrack.
The menu is made all the more special when you think of the racing legends who have dinned at these tables. Maybe even sat in the same chair you are.
On the wall is a wonderful photograph of Derek Bell leading a conga through the bar and he and Jacky Ickx are still regular guests over race weekends.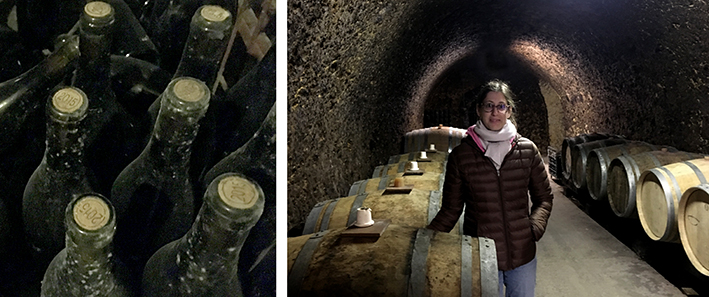 Le Loir, A Good Spot For Wine in France
Wine has been made in Le Loir valley since the 16th century. Maps from the time of Louis XIV detail vineyards on the same land where they are located today. The region is famous for its spectacular white wines and is the second-largest producer of sparkling wine in France. So, as many travellers have done before us, we filled up the car with bottles! Just a short drive from Hotel de France is Domaine de Cézin, a charming vineyard run by the Fresneau family for nearly a hundred years.
Amandine Fresneau, one of the fourth generation of the family now entrusted with the care of this land, showed us around the cave. The vineyard produces a range of delicious white, rose and red wines. Our favourite was the Pineau d'Anis, a delicious light wine surprisingly full of rich character and spicy notes. Pineau d'Anis is almost exclusively grown in the Le Loir valley and demand from local customers and restaurants leaves it fairly rare outside the valley. It's well worth taking the opportunity to stock up on a few bottles!
Le Lude, An Elegant Address For A Charming Break
Le Lude is a charming little town. We stayed in its centre at 5 Grande Rue. This elegant address was first converted into a guesthouse by British couple, Simon and Susan Wachter.
Simon enjoyed a long and successful career in motor sport. Working with Honda Formula 1 and Brawn GP. After completing his impressive race cv at Le Mans, managing Katech engines, Simon and Susan decided to settle down and renovated this old nobleman's house into a relaxing oasis. Before the paint was dry their first booking was Team Ducati for the Moto GP and they have been returning every year since.
Simon and Susan have recently moved on leaving this lovely hotel in the safe hands of Lori and Gavin. Both have retired from many years serving in the Canadian and British Forces and are now dedicating themselves to continuing the excellent standards and warm welcome at 5 Grande Rue.

Château du Lude, A Family Home on a Grand Scale
You can catch sight of the splendid Château du Lude over the rooftops from the bedroom windows of 5 Grande Rue. After breakfast, we strolled down the road to the impressive chateau which has been home to the same family for over 260 years. Many rooms are open to the public and over the velvet ropes keeping the visitors from flopping down on the furniture, you can see family photographs displayed amongst the old oil masters. Magazines, books and cd's are tucked by sofas in front of large fireplaces, giving a wonderful insight into how the family still enjoy living in this grand house today once the doors have been closed for the day.
Hôtel Dieu, The Hotel of God
Leaving Le Lude we headed west, with a slight detour to visit the Hôtel Dieu (Hotel of God) in Baugé. The hotel was actually more of a hospital than hotel. Opened to care for the sick and needy in 1650 thanks to the generous determination of two women, Marthe de la Beausse, a nun from Baugé and Anne de Melun, Princess of Epinoy.
Remarkably the Hôtel Dieu remained in operation until 2001. It now opens its doors to much healthier visitors and gives a fascinating record of the history of health care.
In one room is a splendid apothecary. It's so well preserved it has been classed a national monument.
The walls of this 17th century pharmacy are lined with the original wooden panels and ornate shelving filled with jars and bottles labelled with their bizarre and mysterious contents. Apparently, a dab of Mummy's finger helps to heal cuts. Goodness knows what ailments required a dose of powered woodlice or crayfish eyes!
Living wild with the animals at Zoo La Flèche
The 'elephant in the room" of this motor-obsessed region is large and grey and lives at Zoo la Flèsche. If you like zoos, this is a lovely example and nearly worth the trip alone. If you are lucky enough to stay in one of their lodges it could be one of your trips of a lifetime! Opened in 1946, it is one of the oldest zoos in France. The animals and keepers have become household names In France and Begum where they have been the stars of a near-daily reality television program, Une Saison au ZOO, since 2014.
If you're not a great fan of the incarceration aspect of zoos, I have to say I've never been to a zoo before where the animals looked so active and engaged. As part of the welfare and successful breeding program, there are no set feeding times or stations to encourage a more natural foraging behaviour.
What is truly special in Zoo la Flèsche are the lodges where visitors enjoy the chance to spend the night up close and personal with the animals. 14 beautiful, individually designed safari lodges are discreetly located around the zoo providing luxury accommodation with a unique window onto the wildlife. You can lie in bed at the polar lodge and watch polar bears swimming past the window!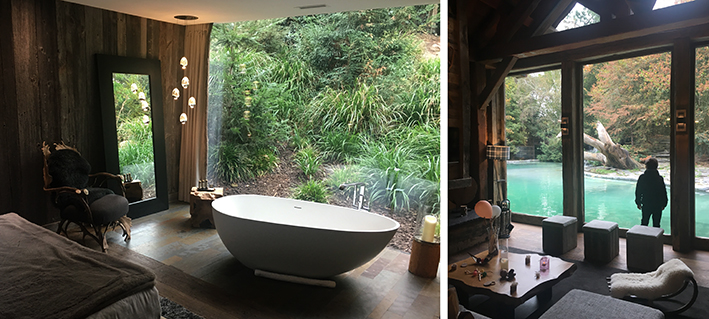 La Flèche
La Flèche is a town with a comfortable, relaxed air. It is home to one of the premier military schools in France, Prytanée National Militaire, founded in 1605 by King Henry IV. We didn't visit the school but we did discover some more peaceful gems as we wandered around the quiet streets. On a square hidden away around the back of the shops is a lovely restaurant, La Table de Laurène. Book ahead or get in early before it fills up with locals. The very reasonably priced menu is filled with tempting local dishes cooked with a French flair. There are some sophisticated choices, like a super cool goat's cheese and tomato ice cream starter. But if you are hungry we heartily recommend the very French cheeseburger awash with Reblochon cheese.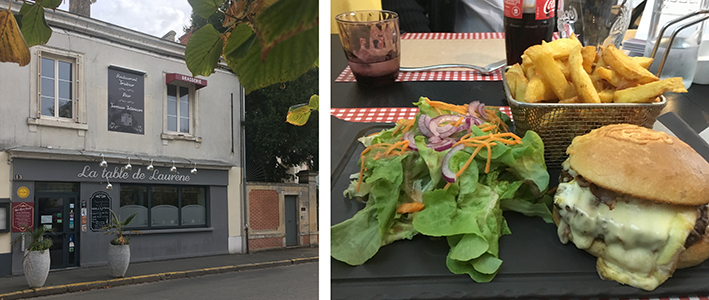 A Michelin star among the racing tyres
Standing out into the river Loir in La Flèche is Michelin stared restaurant, Le Moulin des Quatre Saisons, run by chef Camille and Karoline Constantin, the sommelier. This beautiful 16th-century building with water flowing idly around is an idyllic setting to enjoy a special meal.
A great way to work off some of all the culinary excess, and make room for more, is to take a bike ride around the surrounding countryside. There are many routes marked with details and bikes to rent in the tourist office. Still rather dangerously full of cheese, we opted for electric bikes which were made by Arcade, just down the road in La Roche-sur-Yon. They were the most comfortable bikes I have ever been on. We glided along the riverside and through avenues of trees bursting with great pompoms of mistletoe.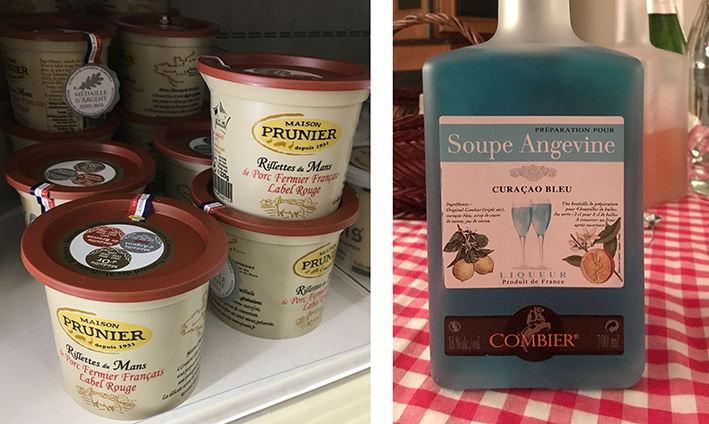 You can discover more about the fantastic things to see, do and eat in Le Loir, France on www.vallee-du-loir.com & www.paysdumans.fr
---
You may also like to find out things to do in and around Le Mans as we explore the area. Click to discover more.