Salomé Pressac exudes a charm, warmth and such inner beauty that, you know, allied to her balletic grace, she is already on top, or about to summit the pinnacle of modern dance. 
Interview by Andrew Threlfall, Photography Christopher Jones
Salomé Pressac is the current undisputed darling of British dance. In both contemporary and ballet, she has overwhelmed audiences and tutors alike. The jewel in the Rambert crown and a balletic shooting star at the Royal Opera House. Her mixed-race heritage feels significant, though not overpowering, but secondary, as she ascends because of a skill set honed by honest dedication and long, exhausting practice hours.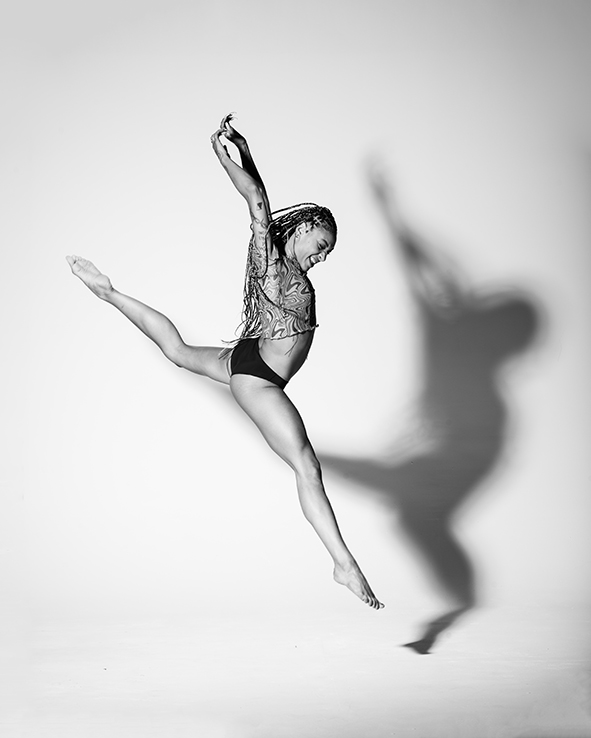 From Woolwich, over the river to Sadler's Wells
AT: Salomé…there is something uniquely incredible about your dancing and your physicality.
SP: Thank you. But I'm just a girl from Woolwich in Southeast London (smiling)…
AT: Well, you are without doubt the poshest sounding Southeast Londoner I have ever heard.
SP: Know what, it's because I'm in this artistic environment. When I'm with my friends, I don't speak like this at all!
AT: Would you consider yourself a social chameleon?
SP: Absolutely, and though I would also love to dance I really want to get more into my acting.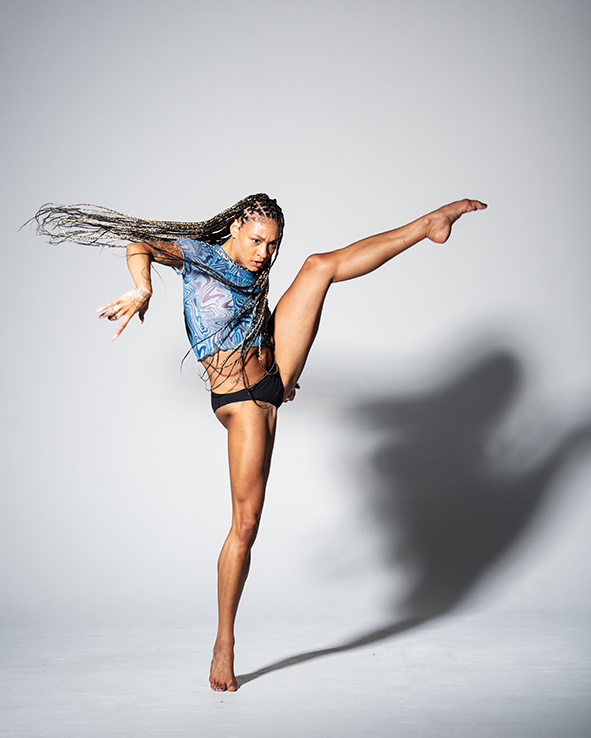 Working for the company
AT: You can effortlessly socially glide?
SP: Yes, totally. I was just like, trying different things post-Covid when I briefly left the Rambert because I was in a situation where it was so hard for me. I was getting offers for freelance work and I just made a choice in my head to do the freelance work because if I had stayed in the company it would not be possible.
AT: Does that mean because if it's Sadlers Wells then it's Sadler's Wells for life kind of thing?
SP: I mean if you stay in a dance company, then it's a comfortable contractual living with financial stability and now I am back in the company. I realised that I needed that as you can't do any outside work when you're in a company. So thankfully I managed to get a few campaigns done post covid. I understand how it works because some photo shoots are a day or two long and obviously that means you can't practice.
AT: It sounds quite constrained?
SP: It can be. I know of, for example, a company in Germany where if you do one or maybe it's three years you get three years off to be independent and then are welcomed back. I am very independently minded and live for travel as well as dance and love to combine both. A lot of people were saying to me, 'What are you doing leaving one of the world's biggest companies?' but my happiness and what I want to do with my life and living with absolutely no regrets is what is hugely important to me.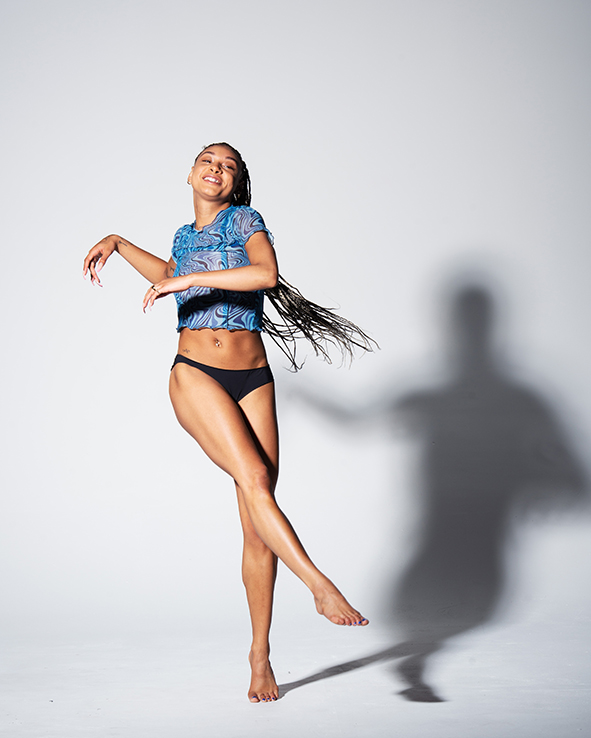 Aim high, be patient and work hard
AT: You are fiercely independent I can tell…
SP: There were many times of course, when I missed being with my friends at the company. But I was very fortunate to go to New York last year and work and travel. The pictures with this interview were taken around my birthday there. I am that person who will 100% just book a flight and go off somewhere the next day as I'm so proudly instinctive with my thoughts. I'm also a great believer in writing down the name of a brand or a person who I want to work with and then making it happen. I really believe in seeing what you want and working towards that goal. And more often than not I've been very fortunate to realise and manifest those goals.
AP: You move with predatory instinct…
SP: I think a major fault with my generation is that a lot of people set a goal, and they assume it has to be obtained straight away and I think that's the problem with my generation. I think it's better to affirm it and say I'm going to get to it in a month or a year or 10 years when it will happen, but you just have to be patient with yourself and your path is not straight. So I often say to myself that I want to work with for example a brand and have to go bend in a certain way. Be patient and work really hard is my motto.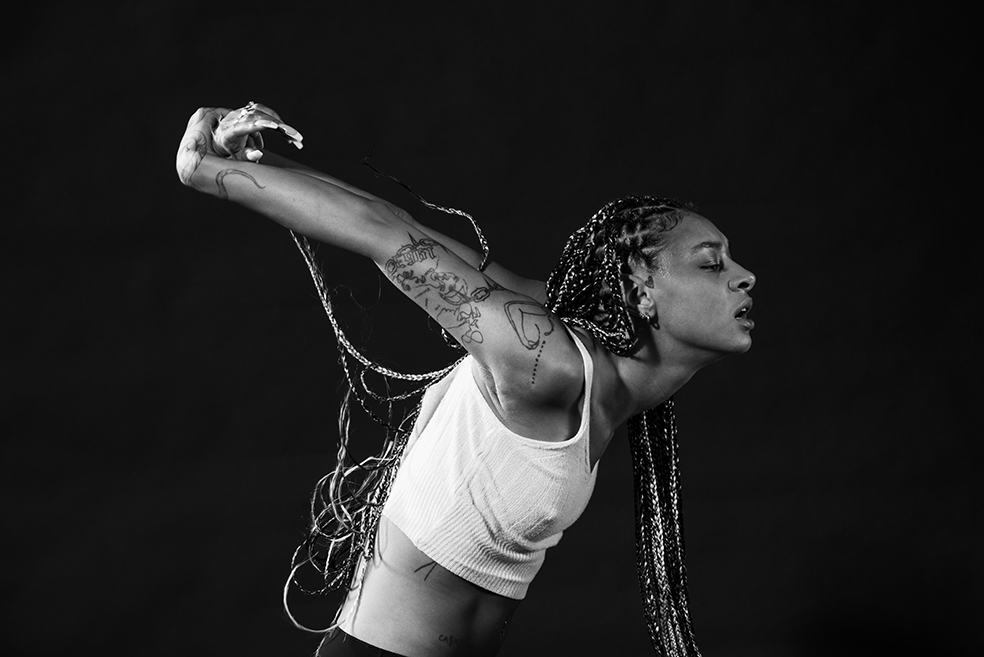 'Stretch, stretch, stretch!'
AT: Tonight with me, we are chatting beside a Frida Kahlo mural, another rebel with a cause, and you are wearing what I would absolutely consider classic South London street clothing. Do you need to be in loose fitting close to, for example, performing vertical splits?
SP: You mean like this (she kicks effortlessly above her head).
AT: But surely you can't do that in jeans?
SP: Oh, babes. I can do it in anything!
AT: You're turning 24 and I'm presuming your body is holding up fine. Injuries must be a concern though so what do you do specifically to prevent them?
SP: I have a very strict routine. It's stretch, stretch, stretch and loads of rehab and strengthening exercises. I broke my ankle when I was 11, and I was so depressed because I didn't think I'd ever be able to dance again. I literally thought this is it. But it's absolutely fine, and I am hypermobile, so I work on strengthening possibly more than other people do. I'm always very loose, which is both a gift and a curse.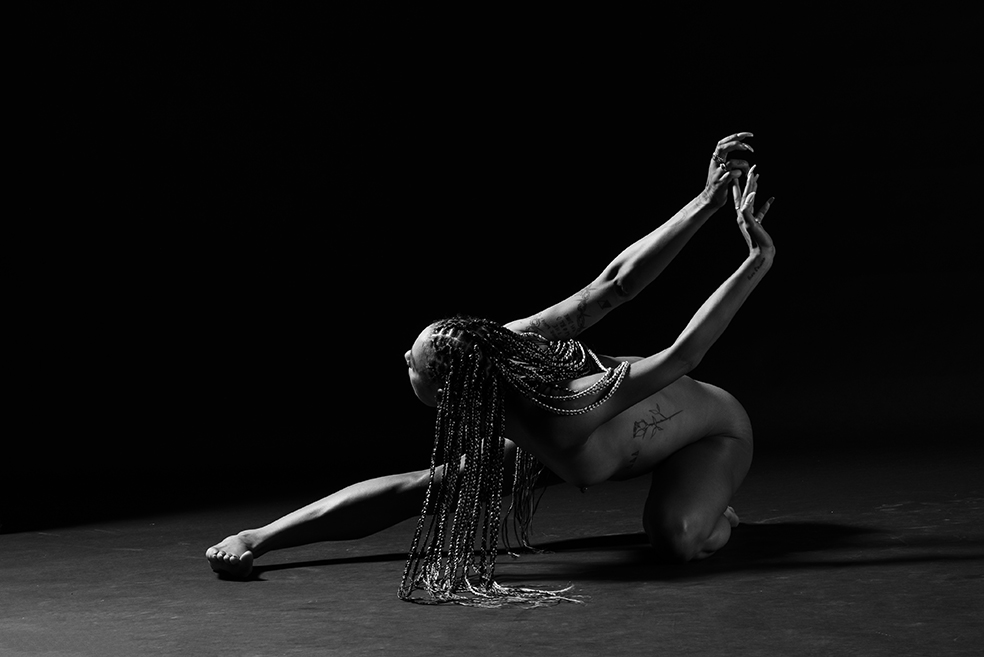 The Royal Ballet, Central School of Ballet, Rambert.
A golden CV, and sleepy cats.
AT: How did you get in to dance?
SP: I trained in ballet at The Royal Ballet Associates and then the Central School of Ballet. Then I went to the Rambert. I feel like ballet is the foundation of any form of modern dance because it teaches you how to understand the mechanics of your body. Just as important is what you eat and your sleep pattern. I'm not really a going out kind of person, I like to be in bed with my cats who are my life; a mother and a daughter tortoiseshell called Kinoa and Mikado. They sleep on my bed with me and are so cute.
Bonjour Mr Bond
AT: Tell me about the acting dream?
SP: Whenever I see mixed-race actresses like Halle Berry I would love to see myself in her kind of action movie…look…I'd make a good Bond villain (Starts firing imaginary bullets). I'm blonde at the moment, but I change my hair colour quite often. And I can really see myself as a baddie. I shave my head occasionally, although I grew it out for three years during Covid. Then I'll get sick and tired of dying my hair and just grab the razor and shave it again.
AT: Tell me about the origins of your name Salomé, is it biblical?
SP: Yes, she was Mary's friend…this is all very topical as it's Easter Andrew. My dad is Jamaican and my Mum is French, but my surname is very French which I speak fluently.
AT: You'll have to come down to Cannes and we'll get you that Bond villain role.
SP: I would love to come with you, it actually sounds like a dream.
Follow Salomé Pressac on her Instagram account
Any chance you get to see her perform, we recommend you take it. Starting here in May: The Royal Opera House
Christopher Jones Photography
Christopher Jones is a fine art photographer specialising in portrait photography, primarily of dancers. His exceptional images are beautiful and evocative. They flow with movement and grace, power and strength and embody the deep emotion of the dancers. He explains his 'intent is to create art that represents my subjects as individuals and artists, not as performers – to reveal the beauty and complexity of their personalities and to strip away as much external noise as possible as part of my process.'
Before shooting a portrait, Christopher takes time in getting to know each individual and understand their motivations and driving forces. He primarily works in his New York studio and also shoots in the natural light of the Hudson Valley in NY State and Berkshires in MA, as well as occasionally doing studio work in London.
See more of Christopher's images on his website: Christopher Jones Photography