By Sam Clark
The cursed Northern Line underground had given up halfway down from St Pancras so I picked my way through the city between weekend film shoots. No spoilers, but I can reveal the second Christopher Robin film features some extras cycling past the Bank of England dressed in rather natty period tweeds. My unforeseen stroll through the City of London ended with rewarding views crossing the River Thames to my lodgings for the night, the splendid London Bridge Hotel.
It was my first visit to the hotel but as the doors opened before me I was welcomed in like an old friend by Robert Naraine, the Head Concierge. This was the start of a charming personal care and intimate warmth felt throughout the hotel. Robert is among several key members of staff, including Paul O'Pray, Robert's deputy, Nick Cowell the General Manager and Grace, Head of Housekeeping, who have been with the hotel for over 20 years demonstrating the level of commitment and their dedication to this independent business.
The interior is immediately luxurious and elegant, a welcome refuge from the bustling city outside. While checking in I mentioned I had to leave at 6 and would miss breakfast. The concerned receptionist kindly offered to have a take away breakfast waiting for me as I left. That was, if I was absolutely sure I couldn't stay a little longer to get something warm from the kitchen? She seemed so genuinely worried about my wellbeing I nearly canceled my early Eurostar reservation in favor of a fry-up. Apparently the hotel don't like to let their guests go without the proper start to the day. They are well placed for London marathon and are popular with runners who are sent on their way after a specially prepared 'power breakfast'.
A stylishly comfortable blend of historic features and contemporary aspects enrich the hotel and its 138 bedrooms. Unusually for large independent hotel there are three luxury serviced apartments. Each has a double bedroom with ensuite and a second twin bedroom with separate shower room. Spacious dinning/living rooms and fully equipped kitchens make these the perfect home from home either as a base for business or a holiday.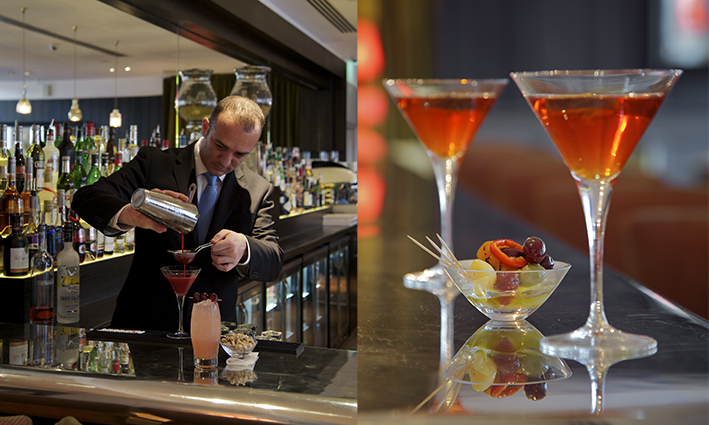 The Quarter Bar and Lounge, perfect for a cosy date with style
The main restaurant, The Londinium, is closed in the evenings at the weekend, similar to some other hotels as many guests head out to explore the restaurants and bars of London. However, the Quarter Bar & Lounge is open all week providing a snug place to relax with food and a drink. Its plush décor surrounds an expanse of gleaming chrome bar, lavishly stocked with a bounty of enticing bottles. In addition to the Quarter bar's own menu of food and bar snacks, the Londinium restaurant menu is also available. This includes a selection of set price, two and three course options. I enjoyed the Pigs Hock Terrine followed by the deliciously heartening Brased and Glazed Feather Blade of Beef. The only disappointment of my visit was that the peppery homemade piccalilli accompanying the pork terrine didn't get the respect it deserved and was precariously served on a small piece of slate. At £21 for two courses and £28 for three, guests and visitors to the bar can enjoy a good meal at a remarkably reasonable price in sumptuous surroundings. The cozy booths would be a great setting for a secluded date night I the center of town!
Located on south side of the Thames, the London Bridge Hotel is surrounded by some of the most historic and modern features of London. To one side is Borough Market, London's oldest market which has seen traders on this site for over 1,000 years. It is still filled with many delicious artisan delights. On the other side is one of London newest landmarks, The Shard, Northern Europe's tallest building. Designed by Italian architect Renzo Piano it thrusts up to scratch its audacious authority on the sky and gives unrivaled views of London from a 360 degree viewing platform and restaurants. Central London is a stroll along the river passed landmarks like the Tate Modern art gallery and Shakespear's Globe Theatre. Or, if you are visiting for business you can join the daily migration of suited commuters over the bridge into the city.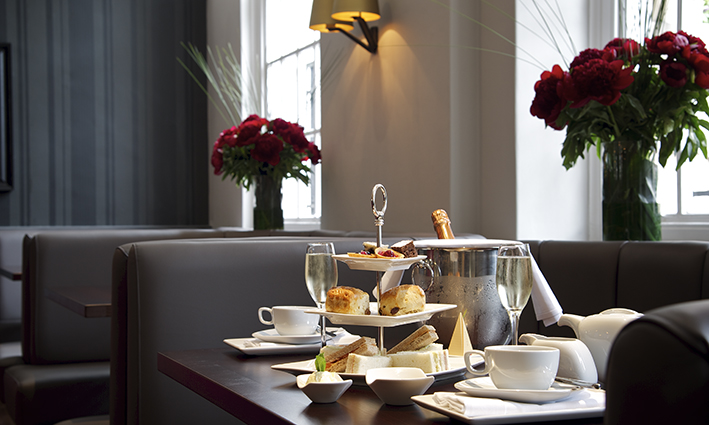 Images curtesy of The London Bridge Hotel
Enquiries:
The London Bridge Hotel, 8-18 London Bridge St, London SE1 9SG
020 7855 2200