By Andrew Threlfall
Clearly it's an in joke that the French have against their British cousins. We give them 14 day quarantine while they make it inordinately difficult for you to arrive at your chosen dream destination, keeping the airport at an arm and a leg's distance, so you stay much much longer. Paris – it's 2 1/2 hours from the centre of London to the centre of the capital of love. If you want the Cote d'Azur heading west from Nice airport towards Cannes and further afield to St Tropez it's another hour at least on the train. For this trip flying into (the closest option) Nantes airport, the Atlantic Hotel & Spa, in Les Sables d'Olonne was a 96km drive. With a 14 day quarantine reward waiting for my adventurous soul THIS HAD BETTER BE GOOD. Boy was it ever.
Ok, why was I bothering with this level of hassle? Let me tell you why. Monaco has been enclaved by the billionaires; Cannes, Antibes, St Tropez and Nice by the millionaires. You still want beaches for miles, blue skies, affordable hotels and even more affordable French Michelin starred level food?
Then it's the Atlantic West Coast you should not only visit but probably move to. It's that highly recommended.
The Atlantic is so named as the Ocean itself is just over the road and evening dinner in it's Le Sloop features stunning sunsets. The famous Vendee Globe sailing race (around the world) and all things maritime influence the town center, dominated by the sea front promenade "Remblai".
The small lighthouse 'Le p'tit phare' restaurant was a typical for the city, three course £22 ish affair, cuisine of the absolute highest level and I needed the guided cycling tour of the marshlands and forests to burn some calories. At the far end of a forest Joa Casino appears, a great place to beat that you can't resist their menu. But remember your identity card, it will be asked for at the entrance.
Veloodelaforêt proved an excellent choice to leave the car and bike the city with local guide and new Mum, a common theme here working mums, Priscilla Giboteau on 00 33 2 6 26 22 51 17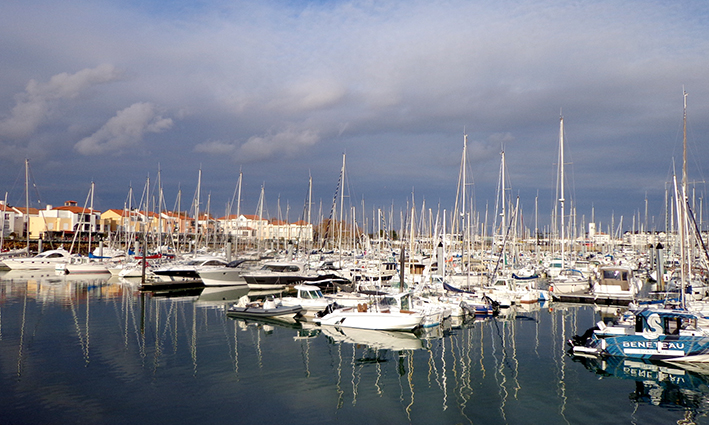 Everyone in this city it seems, partakes in a water sport, and 'Daddy Seal' himself Matthieu Portero personifies this outlook. He's a renowned Surfboard shaper and designs bespoke custom boards, to elite competitors. Engaging Matt will talk to you for hours about his visit to Tahiti where he vacations to surf. But his biggest wave ever? Right in his home city. Yep, ride the big waves here, although when I went out for some sailing the ocean was as flat as a pancake.
00 33 2 6 76 67 21 03 Rue Marcel Dassault – quartier Olonne www.daddyseal.com.
To get around the city I'd recommended hold of the bikes, the Atlantic has a garage, making possible a visit to Comptoir la Sablaise, the new shop of the local canning factory, last in the les Sables area producing sea "rillettes", anchovies is a must. You can't order internationally so spend an hour there and stock up your spare suitcase. www.lasablaise.fr 00 33 2 51 32 86 37
Resembling the Titanic, www.restaurant-cote-ouest.fr was the next culinary stop off, and it has some interesting Titanic esque decor. The spa treatments are with a look, and at just a 10 minute walk from the hotel, if you relax too much you should be able to stagger home.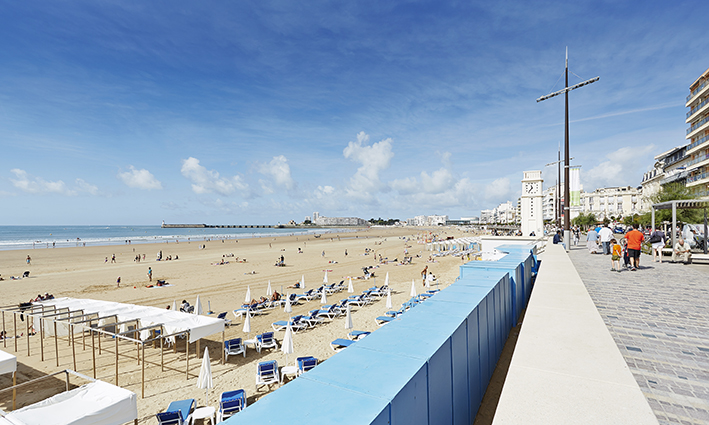 To work that off even more astonishingly priced (cheap) food, a familiar theme of battling the calories on this trip, I headed to the sea front on one of Surfzone's paddle boards. I like to use a paddle whenever I get the chance in France. But that's a story involving a very young Vanessa Paradis when we dated, and maybe one for the memoirs. And not before a few local cognacs. 00 33 6 25 83 35 27 www.surfzone.fr
After recounting the mysteries of the post watershed Vanessa in paradise story it was seamlessly on to play with nine quick holes: Yes, golf at the majestic Allée de la Pierre Levée
Olonne sur Mer course. 85340 LES SABLES D'OLONNE: -0033 02 51 33 16 16 Maybe it was onset the third day food coma by now but my game fell apart. For the very affordable golf : www.destination-lessablesdolonne.co.uk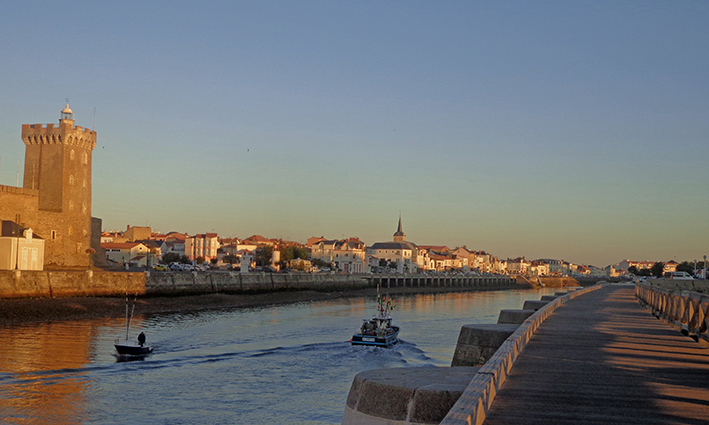 I had just enough energy after a shower at the elegant Atlantic, to sample what was for me the region's number one and no one else comes close, dining experience. At the "la suite SVP restaurant", chef and recently new Mum (The women are world champions at multitasking) Mélanie Sire is the creative genius of a chef while Pierre-Yves Nouchet is her husband and maitre de. Mélanie worked in Florida with the legendary Paul Bocuse, a French of chef who left a legacy of remarkable recipes when he died, and also in Paris with the late Joël Robuchon (another famous French cooking chef who died after she worked with him). Sentence sounds rather ominous but nothing could be further from the truth because the Modern cuisine, original flavour-urs and recipes are as life affirming as you could wish: www.lasuitesvp.com Three course set menu is from a startlingly low £22, this is as well as you will eat in the whole of France.
Restaurant La Suite S'il vous Plait 20 Boulevard Franklin Roosevelt 85100 Les Sables d'Olonne 00 33 2 51 32 00 92
Just one essential element to my trip had endured me thus far. And it was staring me in the face each day as I looked out from my hotel balcony. The early September Atlantic weather was so calm and alluring that the ocean (as well as the previous night's dining) had fooled me into thinking it was as flat as a Cote D'Azur Mediterranean pancake.
As I'm making plans – like all Brits should this side of a lockdown, to head back in November for the famous Vendee Globe sailing race seen off by half a milli0n locals from the keyside, I tracked down Sports Nautiques Sablais, a cruising school that trains the public but also future champions. They even have a special offer called "les coulisses du globe", sailing trip on board a 12m sailing boat, in order to fully imagine the Vendee Globe skipper's life on board when the waves often engulf the boats.
For now, a brief three hour £50 each person sail around the port more than did the job. www.destination-lessablesdolonne.co.uk
SNS are so renowned they take some credit for having trained Sébastien Simon who will actually skipper in the Vendee Globe in November.
www.vendee-tourisme.com
#destinationvendee
Instagram : @vendeetourisme Facebook : @vendee.tourisme
www.lessablesdolonne-tourisme.com
#destinationlessablesdolonne
Facebook : @les.sables.d.olonne Instagram : @lessablesdolonne
Images courtesy of Destination les Sables d'Olonne. Credit in order Alexandre Lamoureux, Nathalie Chevré, Alexandre Lamoureux, Nathalie Chevré