Andrew Threlfall travels around Charente-Maritime, a region on the west coast of France richly influenced by the clear blue waters of the Atlantic that flow through it.
Ile de Ré
Ile de Ré shares both a seafaring and insular identity. That'll do nicely for the well-heeled Parisiens seeking relaxation from the heat of the city in August. So many turn up in blue and white striped  (long sleeve) t-shirts that the island's population increases twelvefold. The food shacks serving mussels cooked over Pineneedle fires compete with local bike firms ushering the tourists out along 19 miles of beaches. The seawater and climate combined to make the island an ideal thalassotherapy center. But I was there for the food. Where else could you eat at Michelin Guide restaurants like Les Embruns (Literally translates to mean the smell of salty sea air) for less than £22? That was for 3 courses (starter + main + dessert), a glass of wine and a coffee. Les Embruns, 6 rue Chay Morin in Saint-Martin-de-Ré +33 5 46 66 46 31
The landscapes of Ile de Ré are a constant surprise, like the Fier d'Ars bay, an "inland sea", and the salt marshes in the north. I stayed at the LA MAISON DOUCE***, 21 bis rue Suzanne Cothonneau 17410 Saint-Martin-de-Ré +33 5 46 09 20 20 www.lamaisondouce.com, something of a haven of peace right in the heart of Saint-Martin-de-Ré, just off the Republic square and one of the craziest one way systems known to France. Its 14 rooms tastefully decorated in the traditional style rétais will seduce you with their authentic charm.
Saint-Martin has a magnificent harbour, a very, very French run down cinema (get a selfie) and also, less than a hundred Poitou donkeys, a unique breed with larger than average heads, ears and legs and coat of long fur. They hug the fortifications, a set of star-shaped ramparts that have been acknowledged with UNESCO World Heritage Site status since 2008.

La Rochelle
La Rochelle is an hour's drive away, traveling back over the, ooouch, 16 euros toll bridge, and after checking in at LE SAINT NICOLAS***, 13 rue Sardinerie – 17000 La Rochelle +33 5 46 41 71 55 www.hotel-saint-nicolas.com, just a stone's throw from the Old Port. I headed off for the famous duck at Les 4 Sergents, 49 rue St Jean du Pérot 17000 La Rochelle +33 5 46 41 35 80 This cuisine was as magnificent – and cheap at £22 – as the Embruns. And by now I was getting used to the local breweries wide range too.
Ile d'Oléron
Ile d'Oléron is a much larger island, back over the another bridge and 71 km away, but a bike ride around St Trojan village and its 'Belle Epoque' villas, the Gatseau beach, the 'Grande Plage' (another beach) and the oyster port are all highlights.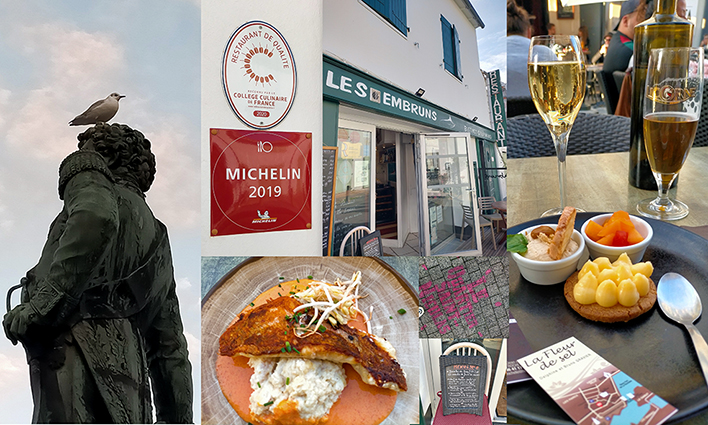 Returning to La Rochelle for dinner at La Fleur de Sel, next door to the Four Sargents, at 45 Rue St Jean du Pérot 17000 La Rochelle +33 5 46 41 17 06
Proving again that this Perot bloke knew a thing or two about dining out. It was wonderful to see this street and the adjoining shopping district packed with people especially after such a terrible 2020 for tourism although even in a good year only about 20% are foreigners. As I walked home to the hotel it struck me that the vibe is exactly like Cannes during the film festival. On the promenade circus acts and musicians vied for attention. Magical. France at it's daring best.
Rochefort
The next morning I hopped on a train and took the 25 minute journey to Rochefort, starting at the Arsenal des Mers, a fabulous sight to discovery all about France's maritime adventures. In the 17th century, Rochefort was chosen as a key place to build, arm and refit warships, frigates and other vessels. A world of maritime history is unveiled here: La Corderie Royale, the longest rope factory in Europe in the 17th century, L'Hermione, a frigate that has gone down in history and travels on all the seas of the world (I received my own personal memento when tar that was being used to paint one of the main masts fell 60 feet onto my white shirt) and The National Maritime Museum with it's exceptional heritage collections and a remake of a life size raft on which people ate others to survive the seas. You had to be there. Literally.
Lunch outside, by the rope factory in La Corderie Royale, the restaurant of the Hôtel Mercure Rue Audebert – 17300 Rochefort set me up for a 20 minute cycle to Transporter Bridge, an imposing metallic river crossing, which transformed the passage of the River Charente in the 19th century. The only bridge reopened to the public on the 29th July after a 4-year renovation project.
Back in Rochefort at the Hèbre Museum another local highlight, the life and writings of Pierre Loti, academician, naval officer, and early attempt at a Prince the rock star life, minus the late nights. His house, located at 141 Rue Pierre Loti in downtown Rochefort, is currently closed for major renovation works (reopening in 2023 though).
Prao Restaurant at 10 rue Saint-Nicolas 17000 La Rochelle +33 5 46 37 85 46 wasn't as spectacular as the two previous nights, but literally more spit and sawdust. Fine by me.
My last day coincided with the arrival of Le Tour de France – a VERY big deal. So where better than off to sea to get the atmosphere. The boarding pontoon located on Cours des Dames, close to the Tour de la Chaîne was the setting off point for a cruise around Fort Boyard. Yes, that one. At a time when coastal gunfire didn't carry far enough, Fort Boyard was built to protect the Charente estuary, the island of Aix and the city of Rochefort from attacks by enemy ships. But the evolution of the artillery was faster than its construction, and made it, militarily speaking, useless upon its completion. It would eventually be transformed and used as a prison. Registered as "Monuments Historiques" it is now known worldwide for the famous TV game show, shot and franchised out, on site since 1990.
A spectacular lunch at the restaurant Les Flôts, 1 rue de la Chaîne 17000 La Rochelle was burnt off with a talking 'Tour Saint Nicolas' and, for good measure, a 'Tour de la Chaine', both displaying true palatial constructions and city castles. The 'Tour de la Lanterne', is, for good measure, the oldest lighthouse on the Atlantic coast and was then a navy prison, containing over 600 examples of graffiti carved into the walls by prisoners in over three centuries.
Just time, the barriers were up now as the race approached, for The 'Hôtel de Ville' (town hall) reopened to the public last winter after impressive renovation works due to a fire in June 2013. Visits are suspended for the moment due to the Covid crisis but will be available for visitors within the next few months.
And then there was a race. All over in in a blur of bodies after about 30 seconds. Ah, France, just like those school holidays to St Tropez when I was a teenager.
FACT FILE
Situated on the Atlantic Coast between Nantes and Bordeaux, the Charentes area is the new name of the Charente-Maritime and Charente departments and is particularly well known thanks to certain destinations:
La Rochelle – Ile de Ré
The Coast (Ile d'Oléron, Royan, Rochefort, Ile d'Aix, Ile Madame) Cognac country
The Marais Poitevin (Green Venice)
The river Charente with its beautiful countryside
Facts & Figures
The Charentes are part of the biggest region in France, Nouvelle Aquitaine. • 12.820 km2 • Population: 995.479 inhabitants
Cultural Heritage
5 UNESCO Heritage Sites: Citadelle de Saint-Martin de Ré, Church of Saint-Pierre d'Aulnay de Saintonge, Royal Abbey of Saint-Jean-d'Angély, Pilgrimage Hospital at Pons, Church of Saint-Eutrope in Saintes.
6 villages certified 'Plus Beaux Villages de France': Aubeterre-sur-Dronne, Ars-en-Ré, La Flotte, Mornac-sur-Seudre, Talmont-sur-Gironde and Brouage.
7 towns or areas certified 'Pays ou Ville d'Art et d'Histoire': Angoumois, Cognac, Confolentais, Ile de Ré, Rochefort, Royan and Saintes.
8 villages certified 'Petites Cités de Caractère': Aubeterre-sur-Dronne, Confolens, Nanteuil-en- Vallée, Saint-Sauvant, Saint-Savinien-sur-Charente, Talmont-sur-Gironde, Verteuil-sur-Charente and Villebois-Lavalette.
More than 600 roman churches.
Visitors
80% of tourists are French
Internationally the British are the largest group, then Dutch, German, Belgian and most are in families or couples (75% of the total)
Natural Heritage
460 km of coastline, 150 km of beaches, 4 islands: Ré, Oléron, Aix, Madame and 42 pleasure ports.
The river Charente.
The Gironde Estuary, largest wild one in Europe, the Rochefort Dockyard, the Charente Estuary 'Grand Site de France'.
The Cognac vineyard, over 75.000 hectares.
The Marais Poitevin 'Grand Site de France', interregional park of 42.000 hectares.
11.300 km of hiking trails.
14 'Echappées Nature' – preserved natural sites.
5 national and european cycle routes : La Vélodyssée® (best cycle route award 2017), La Vélo Francette®, Le Canal des 2 mers®, La Scandibérique® and the new La Flow Vélo®
Gastronomy
2 'AOC' (protected designation of origine): Cognac, Pineau des Charentes.
4 'AOP' (protected designation of origine): Butter Charentes Poitou, Ile de Ré potatoes, Chabichou du Poitou (goat cheese) and Noix du Périgord (walnut).
2 'IGP' (protected geographical indication): Vins Charentais (wines) and Huîtres Marennes Oléron (oysters).
7 Michelin-starred restaurants.
Events and attractions
Les Francofolies de La Rochelle – 3rd most important music festival in France with 150,000 spectators.
Festival International de la Bande Dessinée d'Angoulême – Most important comics festival in Europe with 200,000 visitors.
Le Grand Pavois – Top of the 5th most important nautical shows in the world and most important in France with 82,000 visitors.
2 of the top ten provincial tourist attractions in France: the Aquarium of La Rochelle (800,000 visitors) and the Zoo of La Palmyre (606,000 visitors).
1st destination of France for wellness – 6 thalassotherapy centers (Ile de Ré, Chatelaillon- Plage, Oléron and Royan) and 3 thermal resorts (Rochefort, Saujon, Jonzac).
1st destination of France for disabled facilities – More than 500 different places branded with the 'Tourisme & Handicap' label
Cruises
12 stopovers for 8,000 passengers in 2019.
Links
www.instagram.com/infinimentcharentes
www.atlantic-cognac.com
www.facebook.com/tourismecharentes www.facebook.com/cecile.vischetti.pro
twitter.com/LesCharentes