By Sam Clark
Do you remember being wedged in the back of the family car as a young child, surrounded by a select few favorite (small) toys, the ispy book of motorways and a disintegrating paper bag of cola cubes? I have such happy memories of the excited anticipation waiting on the dockside about to embark on a holiday adventure full of waterslides and fighting over the first bits of baguette with Laughing Cow cheese. Looking out at the other cars having secret races about who's row will be first to drive onto the boat and hoping we will be the ones to go up the rattily metal ramp to the upper floor so we can pick our way under the tangle of pipes, up and out on deck to watch as ferry sails away. 
Today these memories may feel a very long way off. The world seems to be changing quicker than the passing of the tides. Our whole perception and freedom of travel is being turned upside down, almost daily. We have to believe things will improve and life will return to some kind of normality. But perhaps people will this think a little differently about how far and how they travel. Maybe we should try and enjoy more of the planning and travel.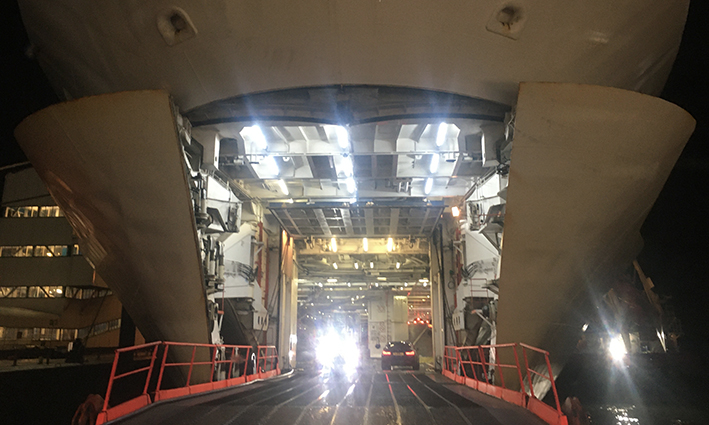 Brittany Ferries have been sailing Britons to France since 1973. Alexis Gourvennec founded the company; a Breton pig farmer turned economic leader who fought to regenerate his beloved Brittany region of France. Alexis and a group of local farmers started running ferries between Plymouth and Roscoff to bring tourists and business opportunities directly into Brittany as the UK entered into the Common Market.
In the spring, just before lockdown my family and I took the night sailing from Portsmouth to Caen. I'm sure it must get a bit choppy some times, but our crossings there and back were both unbelievably smooth. After standing on deck, obligatory when departing on any ship and really quite interesting slipping through the naval vessels harbored in Portsmouth, we retired to our comfortable cabin where, almost disappointingly to us newly self-appointed sailors, the channel was as calm as a millpond and the only detectable evidence that we were out on the high seas was the soporific purring of the ship's engines.
Brittany Ferries enquires
www.brittany-ferries.co.uk
You can easily dream of sailing away, but before you book anything we highly recommend you check travel restrictions www.gov.uk/foreign-travel-advice