Café du Cycliste cycle chic by Sam Clark
Those of you already up to speed with the latest uber-cool cycle clothing will know that at Café du Cycliste there is actually, no coffee. Not in their smart London store anyway. So when I visited to meet Rémi Clermont, Café du Cycliste cofounder, designer and boss (but not is seems, barista), we headed around the corner into Spitlefields market to sip a devilishly bitter espresso sweetened with a chat about cycling over mountain passes with views of azure waters of the French Riviera that is the spiritual home of Café du Cycliste.
Seven years earlier Rémi and his friend's local refueling stop on their regular rides through the Côte d'Azur was an old PMU, the French bookmakers, turned into a café in the village of Chateauneuf de Grasse perched high in the mountains of southeastern France. Looking for a new challenge after working in an IT start up, Rémi started producing some clothing to sell in the café to his friends but his flair for producing elegant garments soon out grew the mountain side cafe. Rémi, with his business partner, friend and former IT boss, Andre Stewart opened Café du Cycliste, a grand flagship store and café amongst the super yachts moored in Nice's Old Port. Although this is more a lavish celebration of cycling rather than a shop. Rémi explains how they set out to build a showcase for their clothing and also create a cycling hub for the area, a place for local cyclists to come and share and encourage their love of cycling.
There isn't any bikes for sale, instead, assembled around an enticingly contoured 3D map of the region built into a tabletop at the center of the shop is a seductive array of high spec bicycles, all for rent. In keeping with Rémi's desire for top quality and design, these are not your usual tourist run-abouts but highly sophisticated machines, handmade by Officine Mattio, just a few mountain passes away in Italy. Officine Mattio are just one of the high quality manufactures that Rémi has become friends with over the last few years through the growth of Café du Cycliste.
Before tentatively launching their first few garments at the mountain side stop-off, initially just a couple of jerseys and a pair of bib shorts, Rémi invested around 18 months meeting manufacturers, researching fabrics and talking to friends about their clothing needs, on and off the bike. The result is a sophisticated blend, combining technical performance with a flair of French elegance.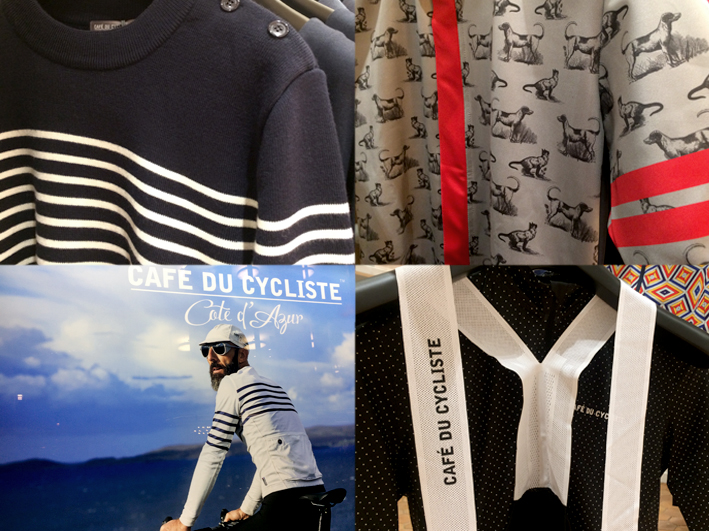 Rémi fondly reminisces about see his father, a cardiologist and keen cyclist, coming home from work and changing from his suit into a cycling outfit, going for a ride then changing back into his suit. He explains in his father's time cycling, particularly in mainland Europe wasn't considered a 'cool' sport. Apart from the top racers, bicycles were largely thought of as basic, economical transport. But this has changed dramatically and cyclists want to look good on their bikes as well as at the all-important coffee breaks discussing components and comparing Strava stats. Commuters race to beat the traffic then step off their bikes straight into meetings and pop out at lunchtime on a rented city bike. Rémi designs his clothing to navigate both the active and social sides of cycling and Café du Cycliste brings a relaxed breath of fresh mountain air and touch of French style to the high-end cycle-wear market.
Rémi says the routes and roads of the Alpes-Maritimes inspire the brand's signature style. The range extends from high tech performance wear designed with an understated elegance to casual pieces with specialized detailing.
A range of specialist pieces are designed specifically with long mountain rides in mind. Reduced and flattened seams give a slick but comfortable fit and super light mesh panels keep you cool in the Riviera summer. Local route cards are given out with the clothing that can be stamped at cafes when markers are reached. Successfully completed rides are rewarded with a badge of honor back in the Café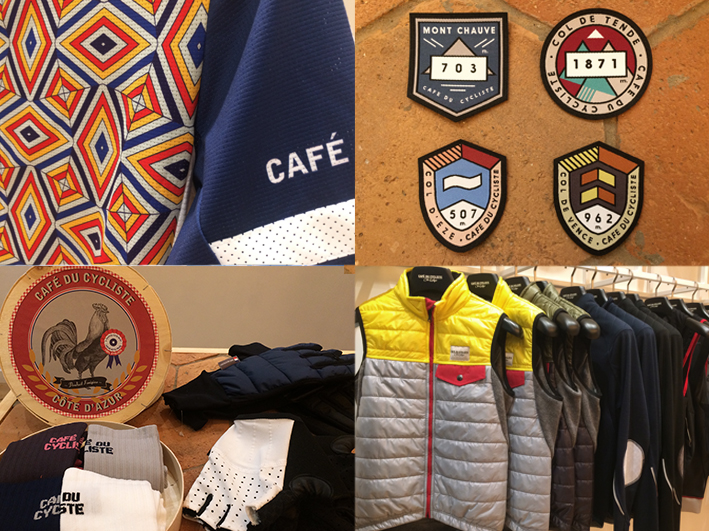 Moving down from the grueling mountain passes, a smart cotton shirt is blended with a small amount of wool 'to give a little stretch, a nice touch and better sweat wicking'. Trousers are detailed with a subtle reflective trim in the turn-ups. A little humor provides protection from the British weather with waterproof jackets in a limited run of reflective material printed with cats and dogs.
Rémi enthusiastically explains his first principle is a drive for quality. All material and trims are made in Europe. He sources the best elements from 'human size' manufactures, largely located just over the mountains in Italy. He finds 'easy relationships' with firms that have a face, often family firms that become friends. Sourcing 'back of the van' size quantities that are then cut and stitched around Europe to avoid the economic and environmental costs of shipping materials around the world and so Rémi can keep a close, personal eye on quality.
The Alphonsine jersey and Heidi jacket are both designed as cycling clothing with technical fabrics cut for performance out on a ride but they both also have a more tailored, casual style so I tested them out on and off two wheels.
I love the Alphonsine and found it so comfortable I have pretty much lived in it for the last few months. It's the first thing I sleepily pull on as I crawl out of bed to make coffee on cold mornings, its been my jumper through the day, an easy jacket when I pop out for lunch and a snug layer under my 'big coat' when the temperature plummeted through the winter. The fleece is a merino blend, which, unlike other fleece materials, gives a four-way stretch allowing a streamline fit with maximum movement. The natural elements of the fabric give the thermal qualities of merino and also inherit its high moisture wicking characteristics and is reassuringly odor resistant. There are windproof panels over the shoulders but like any fleece, particularly cold winds cut through the fluffy material, however this easily overcome with a windproof gilet which can be carried in one of the three large traditional cycle jersey pockets on the back. As with the whole jacket these pockets are beautify trimmed and become quite unobtrusive when you're off the bike.
The Heidi jacket is an altogether, more tailored garment. More cappuccino than mug of tea. The front is covered with a windproof layer quilted over a highly technical Italian fabric. The outer layer of this breathable material gives some water protection while the brushed interior wicks moisture away from the body and extra windproof panels hidden down, inside the arms keep you warm and cosy. And like the Alponsine fleece, it's extremely stretchy so it molds to your body and movement like a second skin. I found it comfortably stretched over extra base layers on the odd occasion I managed to venture out into the arctic conditions this winter. Both jackets have extra long, silky cuffs, which stretch snugly around wrists and gloves. Rémi's extreme care and attention to the details is evident throughout. The front zip is piped with a soft suede material and is angled to sit to the side of your neck. Two beautify low-profile air vents are zipped away on the shoulders to retain the streamlined shape while giving a little temperature control. After washing away the dirty stripe I created up the back on my wet rides, I found the Heidi equally as comfortable worn over a shirt cycling to the office where it doubled as casual blazer.
Both jackets are cut has a slim, streamlined and tailored silhouette. If your thinking of making use of them away from your bike then I would suggest you try one size up from your usual cycling size for a slightly more relaxed fit.
Enquires
www.cafeducycliste.com
32 Artillery Lane, London E1 7LS