Rab, Built for Adventure
Article by Sam Clark
Photography by Ralph Clark
Archive & factory image courtesy of Rab
 
Rab make some of the best insulating clothing for the most extreme mountain conditions in the world but they are perhaps more commonly known for what has become the standard of lightweight, outdoor warmth, their Microlight jacket. A streamlined version of the Michelin Man style jackets that cocoon climbers on exposed mountaintops.


Microlight
Launched in 2019, the micro down, alpine style insulated jacket quickly become established as the principal piece of warm kit for almost every outdoor activity. It's difficult to credit a single company for the first micro down jacket, because several were working on prototypes around the same period, but Rab were right in the mix at the start and their Microlight jacket has become synonymous with the company. To celebrate its tenth anniversary Rab have launched a new, redesigned version of their much-loved jacket.
The initial concept was to create an ultra lightweight jacket with maximum warmth for alpine use and the design has been continually evolved. The first designs even forgo pocket zips in pursuit of minimal weight. For this latest generation, Rab dissected every part of the jacket and meticulously reconstructed each element asking, why do we do it like this and can we improve it?
The result is a beautifully engineered, utilitarian mountain garment. Function and technicality craft the form.
Current Microlight owners may not immediately notice the host of improvements, but they will feel more of a comforting hug from the updated jacket. An additional side panel has been shaped in for a snugger fit. Better fit means better insulation performance and more warmth. Down insulation works by trapping a layer of air which is warmed by the body. It's the same principal Neoprene fabric uses, trapping water in a wetsuit. Those of you that have been surfing in the UK will no doubt know, any loose gaps will be quickly exposed as a cold wave crashes over you. The same is true with a down garment, any drafts allows cold air in, reducing the warmth. Further developments include cuffs recessed up slightly into the arm, again to avoid drafts. The pockets were given zips some years ago but they have now been carefully angled to lie closed when left unzipped. The hood has been reshaped so that it lies flat over the back when down.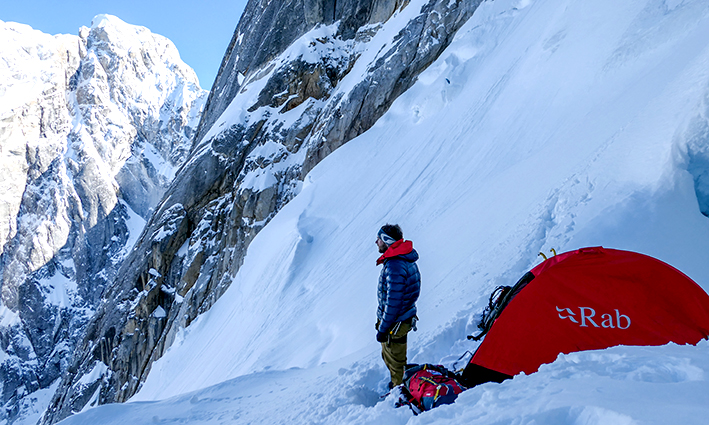 The Summit
The Microlight was originally conceived as an alpine jacket but it quickly became a favorite choice for light, easy packable instant warmth everywhere. For the 10th anniversary, Rab wanted to make something new in recognition of the original alpine routes and they have created the Microlight Summit, which takes thermal down insulation tech to a whole new height.
The Microlight Summit has more climbing related features built in like a two-way zip, useful for fitting around a harness and belaying, and a helmet compatible hood. But the exciting development is in the fabric. The Summit jackets are constructed with Pertex Quantum Infinity Weave which enables the baffles that house the down to be actually woven into the fabric in one continuous weave, eliminating the need for stitching, glue or heat welding. Using a single fabric gives better wind and weather resistance, which increases warmth with less weight.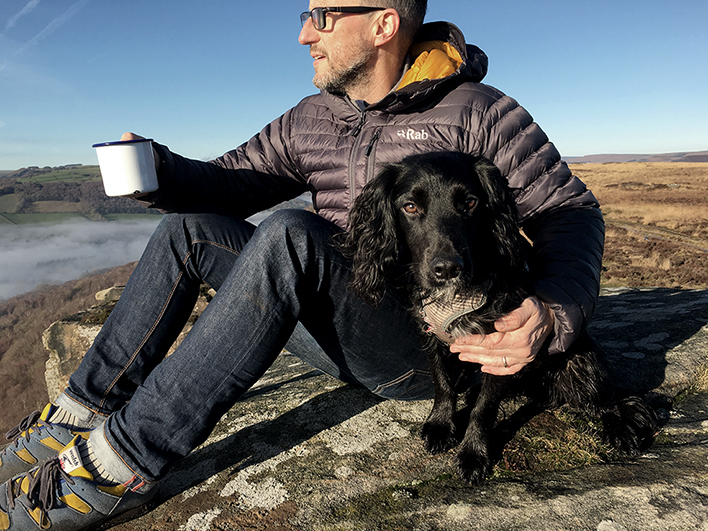 Testing
As most of the feathers have now escaped from my large, aging down jacket I thought the new 10th birthday design was a perfect excuse to finally treat myself to a Microlight. Pulling it on you can immediately feel what all the fuss is about. It's astonishingly light and although much thinner than the large jackets it still delivers a surprising amount of warmth. Somewhat ignoring all the hard work Rab have done to streamline the cut, I chose a slightly larger size for an easier fit and so I can comfortably wear a jumper or extra layer underneath. On a windy day the cut around the neck and cuffs do a great job of deflecting the drafts.
The jacket has a wide comfortable temperature range. This maybe because of its lightweight style and the quality of the down. One day the wind chill was reportedly -7. Getting out of the car felt pretty chilly but I soon warmed up as soon as I started moving and then kept the jacket on for a pint in front of a fire back in the pub. Once you put it on you just don't want to take it off!
Even more than a draft, down's arch enemy is water. When down gets wet it looses its insulating ability. To fight against this, all the Microlight range uses Rab Fluorocarbon free Hydrophobic Down developed in conjunction with waterproofing specialists, Nikwax. The water-repellent finish prevents the down absorbing moisture in damp conditions, allowing it to maintain loft. The Pertex Quantum outer fabric is also water-repellent. As Rab states, these are water repellent properties and like any down jacket, I don't think it will work miracles in a heavy downpour. But, on the several occasions I've spent a few hours out in drizzly rain I stayed happily dry and warm.
The Down
Microlight's, like the majority of Rab down products, are filled with goose down. You count on the jackets to keep you warm and, particularly with the expedition range you are relying on it in certain circumstances to keep you alive so Rab only use the highest quality down. They are committed to improving animal welfare and were one of the first certified members of the Responsible Down Standard, ensuring all the down is RDS certified, sourced in Europe through a traceable supply chain.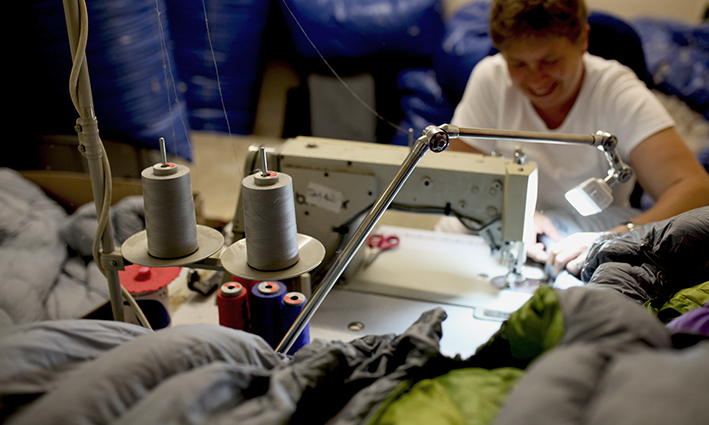 They also understand some people don't want to wear animal based jackets so the Nimbus range provides a synthetic equivalent to the Microlight. The manmade fibers can't quite match the warmth to weight ratio of natural down at the moment but the performance is being continually developed and improved.
It's not about new garments though. Rab believe one of the most sustainable things they can do is help the kit you buy last as long as possible so they offer a cleaning and repair service.

Rab Carrington, the founder
The Rab company was founded 1981 by Rab Carrington. An accomplished climber, Rab says 'The greatest thing I ever got from climbing was friendship', but it's obvious he also gained a great knowledge and experience of the gear needed to conquer these extreme locations. On a trip to climbing expedition to Patagonia in 1973, Rab and his group arrived in Buenos Aires to discover their equipment was still in the Liverpool docks, held up by striking Dockers. Killing time in Buenos Aires, they hung out with the local climbing community. Rab became good friends with Hector Vieytes, who had a small business making sleeping bags for local climbers. Never one to sit idle, Rab offered to help Hector put together a sample batch of down sleeping bags, jackets, gloves and trousers to pitch for a contract for the military.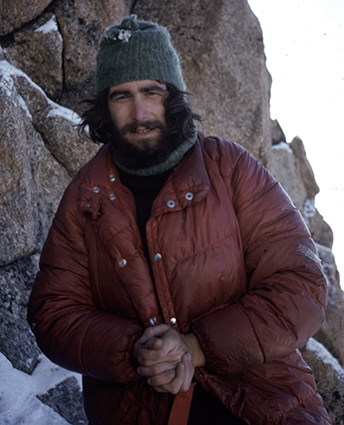 A few years later back in the UK, Rab and his family moved from Scotland down to Sheffield where he started making his own down sleeping bags and clothing in his attic. Demand for his well constructed, no nonsense, hardwearing gear soon out grew production from his home and it's now successful brand around the globe.
Rab Carrington retired in 2003, handing over ownership of the company to Equip Outdoor Technologies Ltd. But, in between climbing trips he is still a regular visitor to the companies Derbyshire HQ, keeping a careful eye on all the product developments with the same enthusiasm and energy for innovation and quality. 
Find all the latest product news at rab.equipment