Billy Idol has a new EP out and is back on tour doing what he does best!
By Andrew Threlfall
My deep affection for Billy Idol centres on that unless it's riding Harleys down the PCH (Pacific Coast Highway) in California where I first chatted to him, the only time I get to see him live in the flesh for fantasy is in a World Cup year. And here we are a month before Qatar, and England's biggest fan is back in his home town right next to the Wembley arch.
So I'm with my A team. My best friend Antoinette, with whom I saw Billy at the Hammersmith Apollo in 2014, before seeing him again at Brixton Academy whilst the World Cup was actually on during the summer of 2018: when Russia seemed almost normal, although let's just erase as much as that from the memory as possible.
Last but not least is my best male friend Miv, veteran of hundreds of seminal concerts, and as we walk into Wembley arena he's telling me, not unsurprisingly, that he last saw Billy in Generation X in 1976! Miv's brother-in-law runs the biggest record company in the world so this had better be one hell of a show from Mr Idol.
And what a show it is.
Maybe it's partly because it's his triumphant return on the Jubilee Line. He was born four tube stops away in Stanmore but tonight it feels like a cup final on stage burning through the classics like (Gen X's) Dancing With Myself and One Hundred Punks (Miv and Antoinette count significantly more in the foyer), Cradle of Love, Flesh for Fantasy, Mony Mony and Rebel Yell. But he has also brought new classics to the fore, notably just released Cage and Bitter Taste, easily his greatest new tunes in over a decade.
Eyes Without a Face is still my favourite of the night and remains that quintessential song about a fascinated Englishman abroad in America. He's an Englishman in…well, Las Vegas, not New York, 'reading murder books trying to stay hip.'
Billy closes the show with White Wedding, and in a lengthy and beautifully moving introduction to his biggest hit, he pays tribute to his sister Jane who is here in the audience tonight. Two kids from North West London, and one sibling who he leaves on a lifetime quest "hitting writers block in Los Angeles" thousands of miles away so badly he started to scribble down "hey little sister what have you done?"
The rest majestically so made him an immortal British Californian transplant superstar with those iconic MTV videos, the Elvis lip (Antoinette is sat next to me doing a brilliant version of her own), and those remarkable songs re-enacted here with gusto by a superb backing band, featuring three, yes three, guitarists…one of whom is Steve Stevens, around whom this live show revolves and echo reverbs as much as Billy.
We are backstage now at the after-party. I'm telling Steve he is the greatest living guitarist on the circuit and everyone nods along in non-negotiable agreement. Billy swings by (with cake, hey this is rock and roll and 2022, did you think it was a typo?) and we switch to a conversation about Bromley in Southeast London which is also where Billy spent a lot of his formative musical years as an avid fan of Bromley's greatest other export David Bowie. So much so that Suffragette City fills the arena as the house lights go up at the end of the show.
I find Sharon, Billy's PR of many years. She's had covid. But she wouldn't have missed tonight. We hug like it's a story that will never end. Tonight is so wonderfully triumphant I doubt it will.
When the World Cup kicks off in November Billy will turn 67. It's a couple of years now since William Michael Albert Broad could have swapped his Harley (he talks tonight about the crash that almost killed him) for a bus pass. But I can see him on the Blue Highway forever.
Charmed life indeed for this Most Charming Man.
---
Billy Idol continues his Roadside Tour which includes a residency in Las Vegas. Details can be found on the Billy Idol website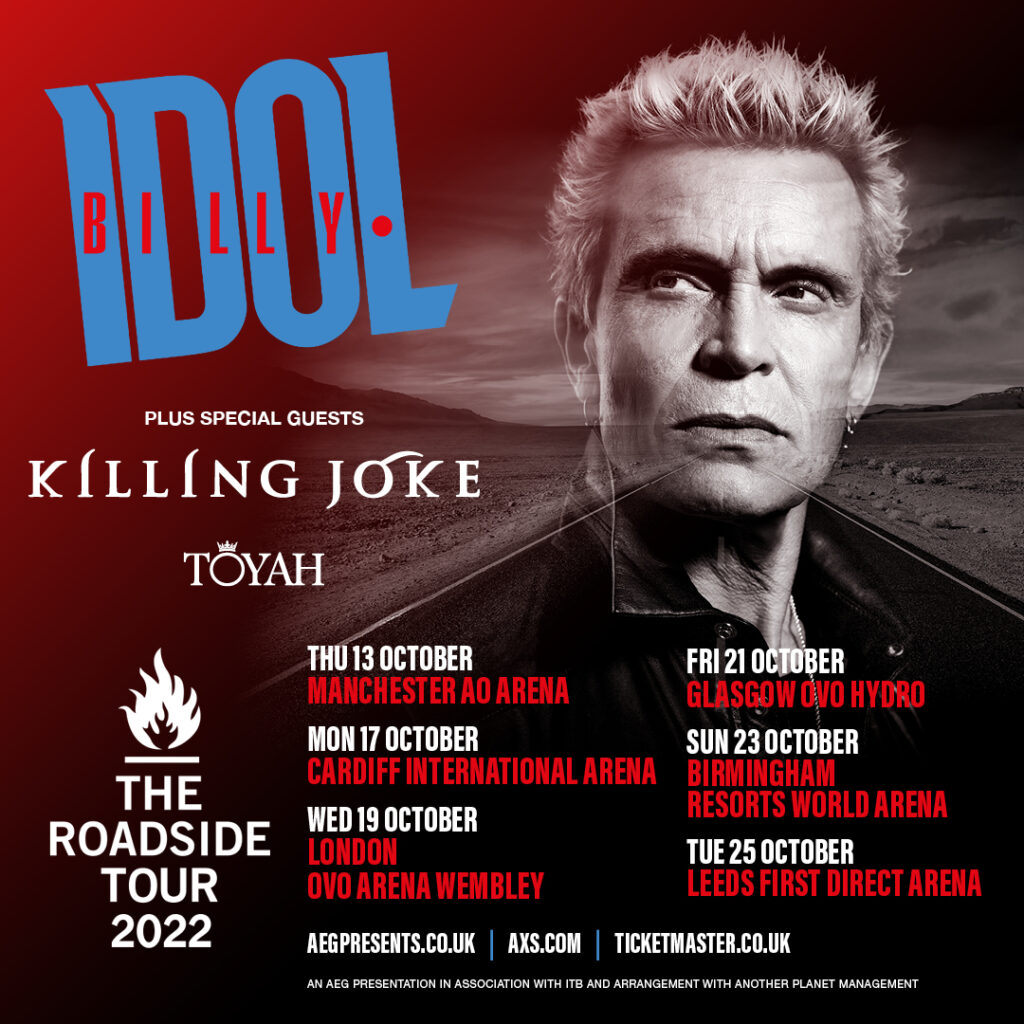 A new 3 track EP, The Cage by Billy Idol is available now.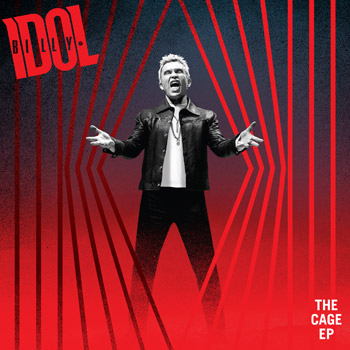 ---
Read about a very rock'n roll phone call with Ozzy Osbourne